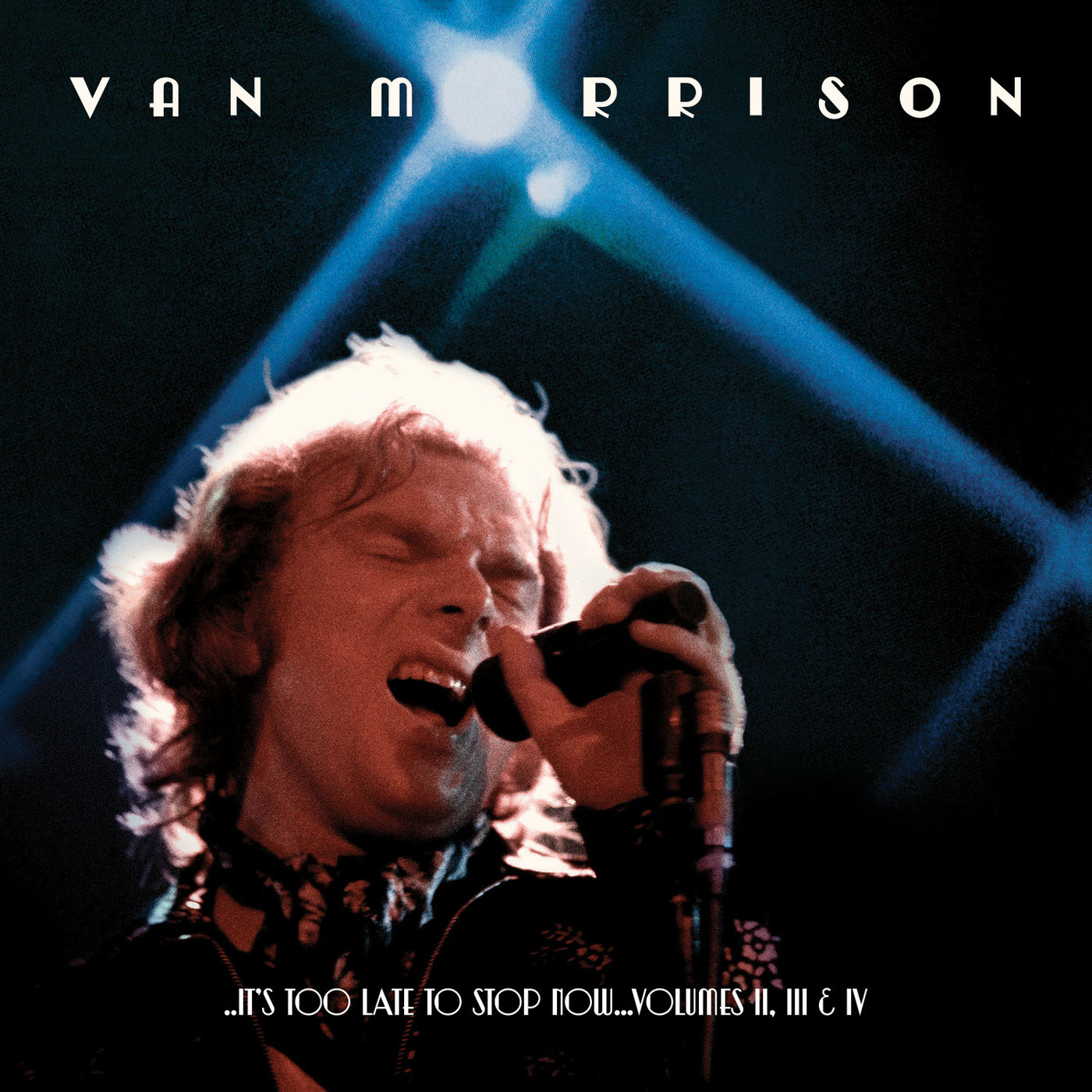 Van Morrison – ..It's Too Late to Stop Now…Volumes II, III & IV (Live) (2016)
FLAC (tracks) 24 bit/96 kHz | Time – 03:34:16 minutes | 4,22 GB | Genre: Rock
Studio Masters, Official Digital Download | Front Cover | © Legacy Recordings
Often cited as one of the best live albums ever made, Van Morrison's original "..It's Too Late to Stop Now…" has been remastered in 24-bit high-resolution audio for the very first time in history.
Morrison's highly acclaimed 1973 concert album was compiled from eight sets of live performances–recorded at The Troubadour, the Santa Monica Civic Center and The Rainbow Theatre–and was notably free of any post-performance overdubs or studios 'fixes'. ..It's Too Late to Stop Now…Volumes II, III & IV returns to those original performances, first captured on two-inch 16-track analog tapes, and, through the mastery of noted engineer Guy Massey, puts the contemporary listener in the enviable position of being sonically present at each venue. All of the recordings on the new collection have been previously unavailable and none of them overlap with the performances on 'Volume I' of ..It's Too Late to Stop Now…
'I am getting more into performing,' said Van Morrison in 1973, during his tour with his newly-formed Caledonia Soul Orchestra. 'It's incredible…. All of a sudden I felt like 'you're back into performing' and it just happened like that…. A lot of times in the past I've done gigs and it was rough to get through them. But now the combination seems to be right and it's been clicking a lot.'
Morrison's 1973 tour found the Irish soul singer at the peak of his powers, returning to the stage to deliver scorching definitive renditions of the signature material comprising his catalog at the time, from the R&B/rock roots of THEM to the haunting folk soul of Astral Weeks and Moondance in songs like 'Gloria,' 'Into The Mystic,' 'Warm Love,' 'Domino' and more. Accompanied by the 11-piece Caledonia Soul Orchestra, featuring two horn players and a four-piece string section, Van Morrison set a new standard for live performance while ..It's Too Late to Stop Now… raised the bar on what was possible on a concert recording.
Tracklist:
Volume II – Live at the Troubadour:
01. Come Running (2:55)
02. These Dreams Of You (3:35)
03. The Way Young Lovers Do (4:11)
04. Snow In San Anselmo (4:35)
05. I Just Want To Make Love To You (3:37)
06. Bring It On Home To Me (3:59)
07. Purple Heather (5:22)
08. Hey, Good Lookin' (2:14)
09. Bein' Green (4:54)
10. Brown Eyed Girl (3:31)
11. Listen To The Lion (9:07)
12. Hard Nose The Highway (5:02)
13. Moondance (5:10)
14. Cyprus Avenue (8:46)
15. Caravan (8:46)
Volume III – Live at the Santa Monica Civic:
01. I've Been Working (3:57)
02. There There Child (3:16)
03. No Way (3:49)
04. Since I Fell For You (4:29)
05. Wild Night (4:25)
06. I Paid The Price (4:46)
07. Domino (4:11)
08. Gloria (3:14)
09. Buona Sera (2:42)
10. Moonshine Whiskey (6:51)
11. Ain't Nothing You Can Do (3:06)
12. Take Your Hand Out Of My Pocket (3:20)
13. Sweet Thing (4:44)
14. Into The Mystic (4:31)
15. I Believe To My Soul (3:36)
Volume IV – Live at the Rainbow:
01. Listen To The Lion (7:51)
02. I Paid The Price (5:45)
03. Bein' Green (4:47)
04. Since I Fell For You (4:25)
05. Into The Mystic (4:58)
06. Everyone (3:22)
07. I Believe To My Soul (3:30)
08. Sweet Thing (5:51)
09. I Just Want To Make Love To You (5:33)
10. Wild Children (4:46)
11. Here Comes The Night (3:22)
12. Buona Sera (2:39)
13. Domino (4:21)
14. Caravan (8:33)
15. Cyprus Avenue (8:15)
Personnel
Van Morrison, vocals
Caledonia Soul Orchestra:
Jeff Labes, piano & organ
Dave Shaw, drums
John Platania, guitar
David Hayes, bass
Jack Schroer, alto, tenor, baritone saxophones
Bill Atwood, trumpet
Nathan Rubin, violin
Tim Kovatch, violin
Tom Halpin, violin
Nancy Ellis, viola
Terry Adams, cello
Recorded 24 May – 24 July 1973 at The Troubadour, Los Angeles, Santa Monica Civic Auditorium and Rainbow Theatre, London
Produced by Van Morrison, Ted Templeman
Digitally remastered
Download:
https://subyshare.com/dmsqwd1fwsf2/VanM0rris0n..ItsT00Latet0St0pN0w…V0lumesIIIIIIVLive20162496.part1.rar.html
https://subyshare.com/eyuyob0o3i7c/VanM0rris0n..ItsT00Latet0St0pN0w…V0lumesIIIIIIVLive20162496.part2.rar.html
https://subyshare.com/vc786nsquhe7/VanM0rris0n..ItsT00Latet0St0pN0w…V0lumesIIIIIIVLive20162496.part3.rar.html
https://subyshare.com/86rpvfpqm5vw/VanM0rris0n..ItsT00Latet0St0pN0w…V0lumesIIIIIIVLive20162496.part4.rar.html
https://subyshare.com/pk5i1gn58xu0/VanM0rris0n..ItsT00Latet0St0pN0w…V0lumesIIIIIIVLive20162496.part5.rar.html