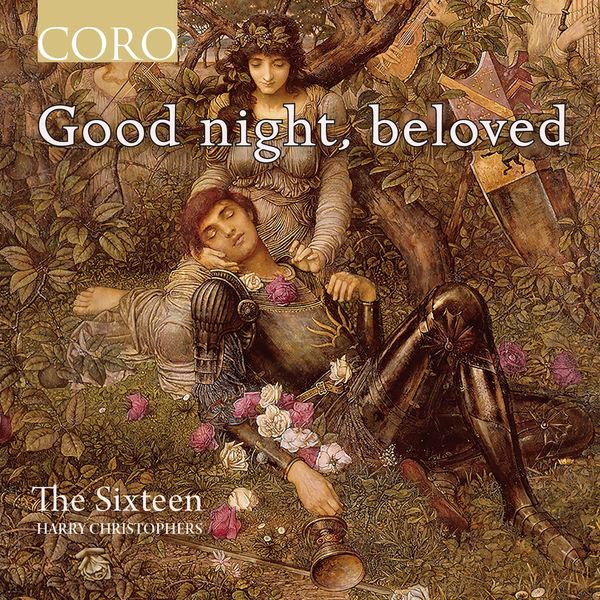 The Sixteen & Harry Christophers – Good Night, Beloved (2021)
FLAC (tracks) 24 bit/96 kHz | Time – 01:08:38 minutes | 1,16 GB | Genre: Classical
Studio Masters, Official Digital Download | Digital Booklet, Front Cover | © Coro
Escapism is the idea behind this latest offering from Harry Christophers and The Sixteen, and while that's certainly an apt concept for 2021 thus far, you don't need to be craving escapism in order to appreciate its contents.
Their interpretation of "escapism" is a satisfyingly broad one, too. Encompassing over 500 years of repertoire and themes, there's everything here from the robust jollity of William Cornysh's male-voice Hoyda, hoyda, jolly rutterkin ("hoyda" being a jovial greeting, and a "rutterkin" being a swaggering gallant or bully) to the peaceful legato and suspended harmonies of Will Todd's mixed-voice Whisper Him my name based on a prayer of Saint Joseph, commissioned for Christophers and The Sixteen. Indeed those two sit side by side.
There's also a new commission from baritone and composer Roderick Williams in the form of an unabashedly romantic and rapturous arrangement of An Eriskay Love Lilt, set to rippling piano waves. In fact one of the pleasures of this album is even balance between 21st century composers (there's also Peter Maxwell Davies, Bob Chilcott, James MacMillan and Eric Whitacre) and names of the past such as Cornyth, Stanford and Bax; and always with the flow from one work (and often century) to the next feeling thoroughly organic.
The singing is equally everything you would anticipate from The Sixteen, with all their usual warmth and purity of tone, smooth blending, and committed expression of their clearly articulated texts' meanings. In short, this is yet another recording from The Sixteen which both their fans and choral lovers in general will be reaching for regularly and indefinitely, far into the future. – Charlotte Gardner
Tracklist:
1. The Sixteen – Vox dicentis
2. The Sixteen – Lullabye for Lucy
3. The Sixteen – I am a Jolly Foster
4. The Sixteen – Children are a Heritage of the Lord
5. The Sixteen – Londonderry Air
6. The Sixteen – Good Night, Good Night, Beloved
7. The Sixteen – Hoyda, Hoyda, Jolly Rutterkin
8. The Sixteen – Whisper Him My Name
9. The Sixteen – The Blue Bird, Op. 119 No. 3
10. The Sixteen – Ah Robin, Gentle Robin
11. The Sixteen – Sleep
12. The Sixteen – Eriskay Love Lilt
13. The Sixteen – Giles Jolt
14. The Sixteen – Mater ora filium
Download:
https://subyshare.com/8d6srbxacq6g/TheSixteenHarryChrist0phersG00dNightBel0ved20212496.part1.rar.html
https://subyshare.com/tmva4y30fxrq/TheSixteenHarryChrist0phersG00dNightBel0ved20212496.part2.rar.html