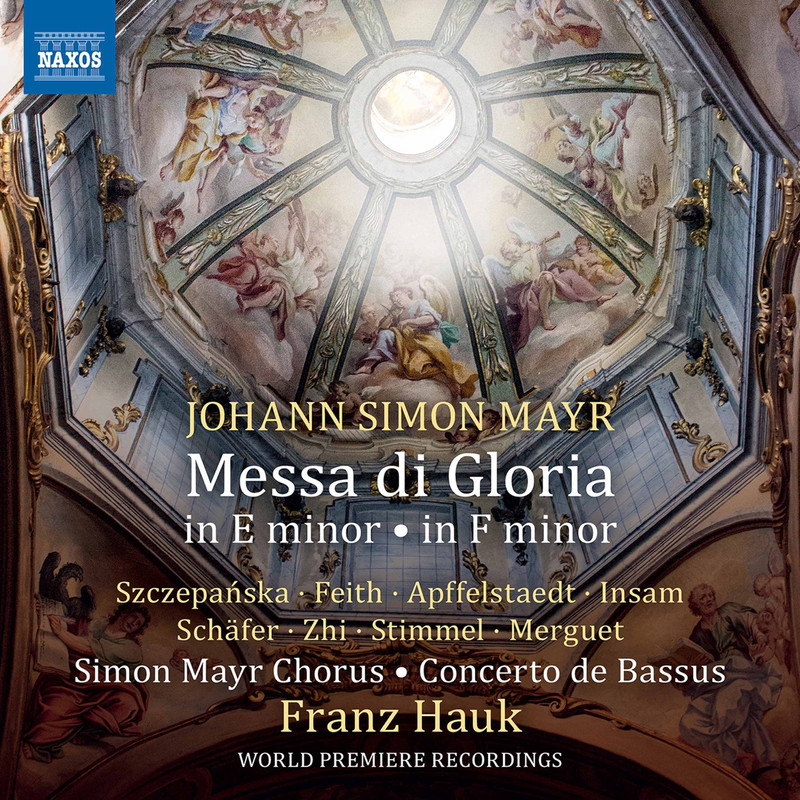 Simon Mayr Choir, Concerto de Bassus, Franz Hauk – Mayr: Messa di Gloria in E Minor & Messa di Gloria in F Minor (2021)
FLAC (tracks) 24 bit/96 kHz | Time – 01:19:56 minutes | 2,58 GB | Genre: Classical
Studio Masters, Official Digital Download | Digital Booklet, Front Cover | © Naxos
Mayr's Masses were in demand across Europe, and their composition is rooted in the Italian tradition of the "messa concertata" which demands division into separate vocal numbers. The Mass in E minor has long been recognised as an outstanding example of Mayr's late style, with its polyphonic mastery and dialogues between singers and concertante solo instruments being exceptionally convincing. The Mass in F minor evokes both joy and deep melancholy, though accompanied, as always, by Mayr's notable gift for melodic beauty.
Tracklist:
1. Dorota Szczepańska, Freya Apffelstaedt, Markus Schäfer, Thomas Stimmel, Simon Mayr Choir, Concerto de Bassus & Franz Hauk – Messa di Gloria in E Minor: I. Kyrie (12:42)
2. Dorota Szczepańska, Anna Feith, Freya Apffelstaedt, Markus Schäfer, Fang Zhi, Thomas Stimmel, Simon Mayr Choir, Concerto de Bassus & Franz Hauk – Messa di Gloria in E Minor: II. Gloria in excelsis – Et in terra – Laudamus te (08:06)
3. Dorota Szczepańska, Freya Apffelstaedt, Markus Schäfer, Thomas Stimmel, Simon Mayr Choir, Concerto de Bassus & Franz Hauk – Messa di Gloria in E Minor: III. Gratias agimus (03:59)
4. Thomas Stimmel, Concerto de Bassus & Franz Hauk – Messa di Gloria in E Minor: IV. Domine Deus (08:50)
5. Dorota Szczepańska, Concerto de Bassus & Franz Hauk – Messa di Gloria in E Minor: V. Qui tollis (08:22)
6. Markus Schäfer, Concerto de Bassus & Franz Hauk – Messa di Gloria in E Minor: VI. Qui sedes (10:07)
7. Dorota Szczepańska, Freya Apffelstaedt, Markus Schäfer, Thomas Stimmel, Simon Mayr Choir, Concerto de Bassus & Franz Hauk – Messa di Gloria in E Minor: VII. Cum sancto (06:08)
8. Dorota Szczepańska, Freya Apffelstaedt, Markus Schäfer, Thomas Stimmel, Simon Mayr Choir, Concerto de Bassus & Franz Hauk – Messa di Gloria in F Minor: I. Kyrie (07:00)
9. Dorota Szczepańska, Freya Apffelstaedt, Markus Schäfer, Thomas Stimmel, Simon Mayr Choir, Concerto de Bassus & Franz Hauk – Messa di Gloria in F Minor: II. Gloria (04:14)
10. Dorota Szczepańska, Freya Apffelstaedt, Markus Schäfer, Thomas Stimmel, Concerto de Bassus & Franz Hauk – Messa di Gloria in F Minor: III. Gratias (01:51)
11. Dorota Szczepańska, Markus Schäfer, Simon Mayr Choir, Concerto de Bassus & Franz Hauk – Messa di Gloria in F Minor: IV. Qui tollis (02:05)
12. Anna Feith, Maria Grazia Insam, Fang Zhi, Elia Merguet, Concerto de Bassus & Franz Hauk – Messa di Gloria in F Minor: V. Suscipe (02:44)
13. Dorota Szczepańska, Freya Apffelstaedt, Markus Schäfer, Thomas Stimmel, Simon Mayr Choir, Concerto de Bassus & Franz Hauk – Messa di Gloria in F Minor: VI. Quoniam (03:48)
Download:
https://subyshare.com/v388wyw8kvb1/Sim0nMayrCh0irC0ncert0deBassusFranzHaukMayrMessadigl0riainEMin0rMessadigl0riainFMin0r20212496.part1.rar.html
https://subyshare.com/a8l20bm4m1nh/Sim0nMayrCh0irC0ncert0deBassusFranzHaukMayrMessadigl0riainEMin0rMessadigl0riainFMin0r20212496.part2.rar.html
https://subyshare.com/7684g6y1t31d/Sim0nMayrCh0irC0ncert0deBassusFranzHaukMayrMessadigl0riainEMin0rMessadigl0riainFMin0r20212496.part3.rar.html