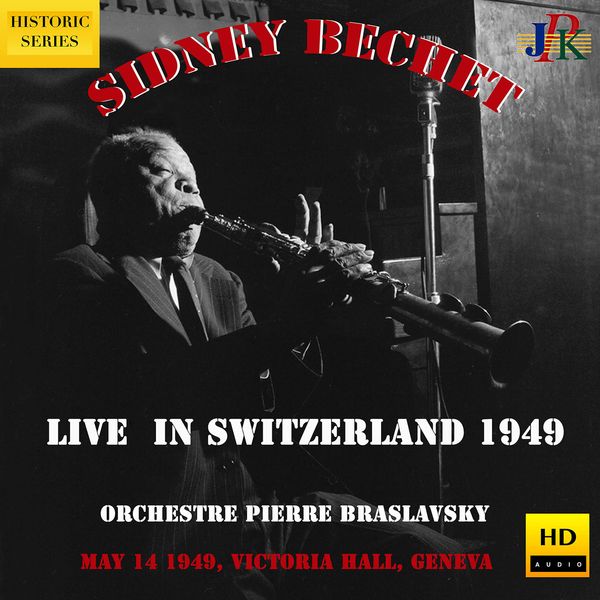 Sidney Bechet & Orchestre Pierre Braslavsky – Live in Geneva, Switzerland (Remastered 2021)
FLAC (tracks) 24 bit/48 kHz | Time – 50:10 minutes | 514 MB | Genre: Jazz
Studio Masters, Official Digital Download | Front Cover | © JPK Musik
Sidney Joseph Bechet (May 14, 1897 – May 14, 1959) was an American jazz saxophonist, clarinetist, and composer. He was one of the first important soloists in jazz, beating trumpeter Louis Armstrong to the recording studio by several months. His erratic temperament hampered his career, and not until the late 1940s did he earn wide acclaim.
Tracklist:
1 Presentation de Lois Choquard (Remastered 2021) [Live]
2 Sweet Georgia Brown (Remastered 2021) [Live]
3 Summertime (Remastered 2021) [Live]
4 Weary Blues (Remastered 2021) [Live]
5 Tin Roof Blues (Remastered 2021) [Live]
6 High Society (Remastered 2021) [Live]
7 Muskrat Ramble (Remastered 2021) [Live]
8 Blues in the Air (Remastered 2021) [Live]
9 I Ain't Gonna Give Nobody None o' This Jelly-Roll (Remastered 2021) [Live]
10 Careless Love (Remastered 2021) [Live]
11 Wildcat Blues (Remastered 2021) [Live]
Download:
https://subyshare.com/r5x3krycx7l5/SidneyBechet0rchestrePierreBraslavskyLiveinGenevaSwitzerlandRemastered20212448.rar.html