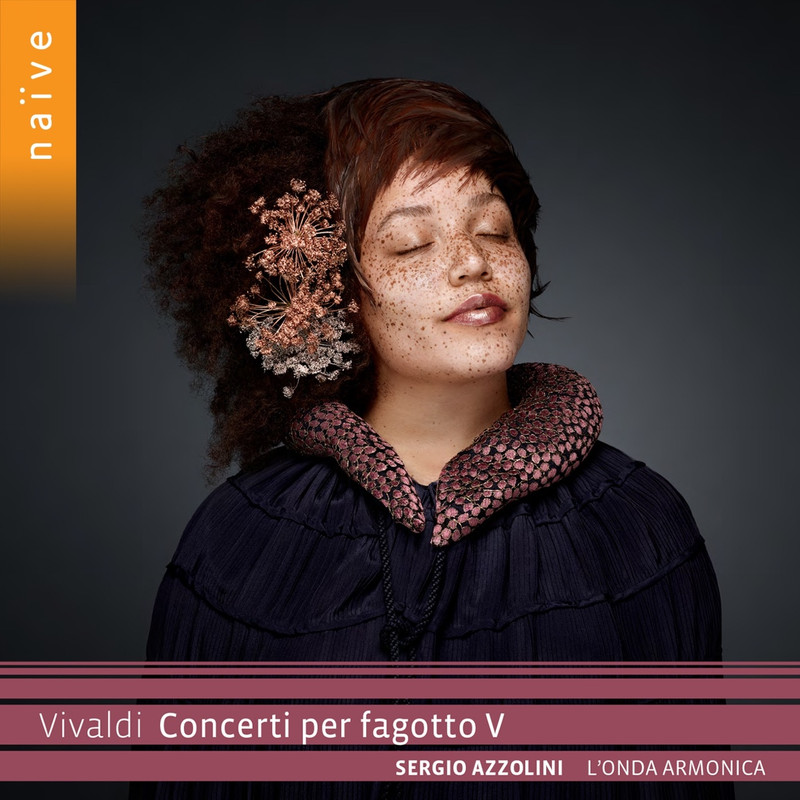 Sergio Azzolini – Vivaldi – Concerti per fagotto Vol. V (2021)
FLAC (tracks) 24 bit/88,2 kHz | Time – 01:17:18 minutes | 1,25 GB | Genre: Classical
Studio Masters, Official Digital Download | Digital Booklet, Front Cover | © naïve classique
The VIVALDI edition now comprises 66 episodes and it was only with time that the immensity of Vivaldi's concert repertoire came fully to light. The violin is by no means the only instrument he preferred: the rank of the bassoon in his oeuvre is remarkable both in terms of the number of works, as well as in the stylistic homogeneity and solistic treatment of an instrument previously confined to the continuo.
Since 2009, SERGIO AZZOLINI has already recorded four CDs of bassoon concertos for the VIVALDI edition-an anthology which he continues with seven new concertos to the 26 published ones. For this production, AZZOLINI has rounded out his orchestra L'ONDA ARMONICA with woodwinds, theorbo, lute, guitar, harp, organ and harpsichord. He decided to do so after intensive study of the Vivaldi scores, which were originally only designed for a string ensemble, but which were given completely new colours for performances by the addition of a large number of wind instruments. This extended ensemble gives the concerts a highly dramatic character and underlies the bassoon in lyrical and elegiac passages as well as in moments of exuberant brilliance.
Tracklist:
01. Sergio Azzolini & L'Onda Armonica – Bassoon Concerto in A Minor, RV 497: I. Allegro molto
02. Sergio Azzolini & L'Onda Armonica – Bassoon Concerto in A Minor, RV 497: II. Andante molto
03. Sergio Azzolini & L'Onda Armonica – Bassoon Concerto in A Minor, RV 497: III. Allegro
04. Sergio Azzolini & L'Onda Armonica – Bassoon Concerto in C Major, RV 476: I. Allegro
05. Sergio Azzolini & L'Onda Armonica – Bassoon Concerto in C Major, RV 476: II. Largo
06. Sergio Azzolini & L'Onda Armonica – Bassoon Concerto in C Major, RV 476: III. Allegro molto
07. Sergio Azzolini & L'Onda Armonica – Bassoon Concerto in F Major, RV 486: I. Allegro non molto
08. Sergio Azzolini & L'Onda Armonica – Bassoon Concerto in F Major, RV 486: II. Largo
09. Sergio Azzolini & L'Onda Armonica – Bassoon Concerto in F Major, RV 486: III. Allegro
10. Sergio Azzolini & L'Onda Armonica – Bassoon Concerto in D Minor, RV 481: I. Allegro
11. Sergio Azzolini & L'Onda Armonica – Bassoon Concerto in D Minor, RV 481: II. Larghetto
12. Sergio Azzolini & L'Onda Armonica – Bassoon Concerto in D Minor, RV 481: III. Allegro molto
13. Sergio Azzolini & L'Onda Armonica – Bassoon Concerto in C Major, RV 467: I. Allegro
14. Sergio Azzolini & L'Onda Armonica – Bassoon Concerto in C Major, RV 467: II. Andante
15. Sergio Azzolini & L'Onda Armonica – Bassoon Concerto in C Major, RV 467: III. Allegro
16. Sergio Azzolini & L'Onda Armonica – Bassoon Concerto in F Major, RV 489: I. Allegro
17. Sergio Azzolini & L'Onda Armonica – Bassoon Concerto in F Major, RV 489: II. Largo
18. Sergio Azzolini & L'Onda Armonica – Bassoon Concerto in F Major, RV 489: III. Allegro
19. Sergio Azzolini & L'Onda Armonica – Bassoon Concerto in C Major, RV 479: I. Allegro
20. Sergio Azzolini & L'Onda Armonica – Bassoon Concerto in C Major, RV 479: II. Largo
21. Sergio Azzolini & L'Onda Armonica – Bassoon Concerto in C Major, RV 479: III. Allegro
Download:
https://subyshare.com/mc6egfv44x75/Sergi0Azz0liniVivaldiC0ncertiperfag0tt0V0l.V202124882.part1.rar.html
https://subyshare.com/m45c5ahica6y/Sergi0Azz0liniVivaldiC0ncertiperfag0tt0V0l.V202124882.part2.rar.html