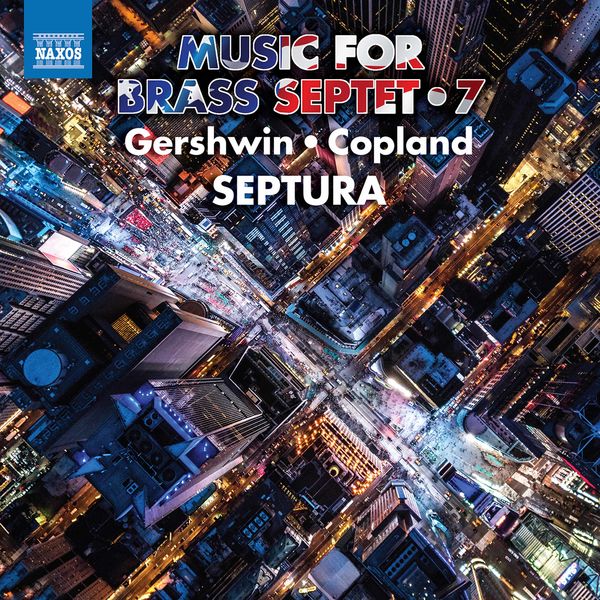 Septura – Music for Brass Septet, Vol. 7 (2021)
FLAC (tracks) 24 bit/96 kHz | Time – 01:00:38 minutes | 1,02 GB | Genre: Classical
Studio Masters, Official Digital Download | Digital Booklet, Front Cover | © Naxos
In this seventh volume of "Music for Brass Septet", Septura survey two of America's greatest and most representative composers. Gershwin's An American in Paris charts a visitor's stroll around the French capital, absorbing the city's atmosphere and charm, whereas the synergy of classical form and jazz animates Gershwin's unique Preludes. Copland's Quiet City depicts a contrasting and more understated cityscape, while the suite from the ballet Appalachian Spring displays Septura's luminous virtuosity.
Tracklist:
1. Septura – Allegro grazioso
2. Septura – Calmato
3. Septura – Subito con brio
4. Septura – Più moderato
5. Septura – Tempo Blues
6. Septura – Con moto
7. Septura – Allegro, molto energico
8. Septura – Allegretto
9. Patrick Flanaghan – Quiet City (Arr. S. Cox & M. Knight for Cor anglais & Brass Septet)
10. Septura – No. 1, Allegro ben ritmato e deciso
11. Septura – No. 2, Andante con moto e poco rubato
12. Septura – No. 3, Allegro ben ritmato e deciso
13. Septura – I. Very Slowly
14. Septura – II. Allegro
15. Septura – III. Duo for the Bride and Her Intended. Moderato
16. Septura – IV. The Revivalist and His Flock. Fast
17. Septura – V. Solo Dance of the Bride. Subito allegro
18. Septura – VI. As at First [Slowly]
19. Septura – VII. Variations on a Shaker Hymn. Doppio movimento
20. Septura – VIII. Moderato
Download:
https://subyshare.com/cgwumpn0xljg/SepturaMusicf0rBrassSeptetV0l.720212496.part1.rar.html
https://subyshare.com/849912ebek9m/SepturaMusicf0rBrassSeptetV0l.720212496.part2.rar.html