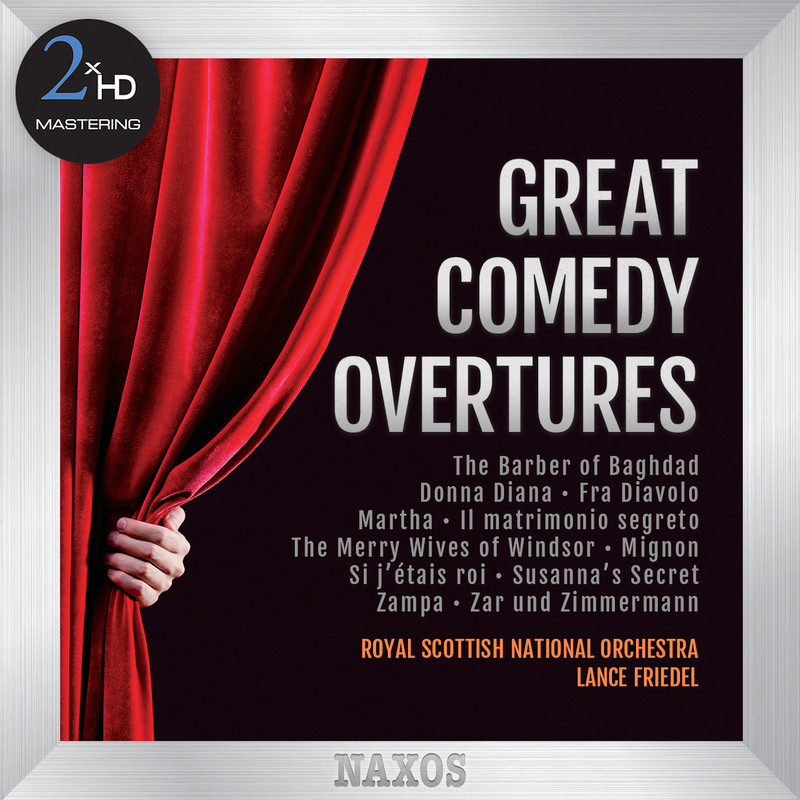 Royal Scottish National Orchestra & Lance Friedel – Great Comedy Overtures (2015)
FLAC (tracks) 24 bit/192 kHz | Time – 01:19:31 minutes | 2,79 GB | Genre: Classical
Studio Masters, Official Digital Download | Front Cover | © Naxos
The flourishing genre of the comic opera had its roots in eighteenth-century Italian opera buffa, whose irrepressible brio was soon taken up outside the country's borders. In France it produced opéra comique and operetta, and in German-speaking countries Spieloper and Viennese operetta. Some of the world's most popular comic opera overtures, filled with gorgeous tunes, brilliant orchestration and race-to-the-finish endings, are presented here. They include staples of the concert repertoire such as Hérold's dramatic Zampa, the textual delicacy of Wolf-Ferrari's Il segreto di Susanna and the vivid colour of Lortzing's Zar und Zimmermann.
Overtures from comic operas and operettas are staples of the light music genre, and some of the most popular are included on this 2015 Naxos album by Lance Friedel and the Royal Scottish National Orchestra. Because of their memorable tunes, exciting pacing, and colorful orchestration, these effervescent pieces were once ubiquitous in the concert hall and on radio and recordings. While many have slipped into semi-obscurity, among them Peter Cornelius' Overture to Der Barbier von Bagdad, and Adolphe Adam's Overture to Si j'étais roi, such perennials as Emil Nikolaus von Reznicek's Overture to Donna Diana, Ferdinand Hérold's Overture to Zampa, Otto Nicolai's Overture to The Merry Wives of Windsor, and Ermanno Wolf-Ferrari's Overture to Il segreto di Susanna remain favorites and are frequently used to introduce young people to classical music. The 11 selections represent French opéra comique, Viennese operetta, and Italian opera buffa, though the differences in style aren't especially noticeable, except for Domenico Cimarosa's Overture to Il Matrimonio Segreto, which is the sole example from the Classical era. Friedel and his musicians fully communicate the buoyant moods and theatricality of these bon-bons, and the reproduction is clear and detailed, with credible presence and fine separation of parts.
Tracklist:
1. Zampa: Overture 08:27
2. Die lustigen Weiber von Windsor (The Merry Wives of Windsor): Overture 08:22
3. Il segreto di Susanna: Overture 03:06
4. Mignon: Overture 08:24
5. Donna Diana, Act I: Overture 06:01
6. Martha: Overture 08:24
7. Fra Diavolo, S. 18: Overture 08:13
8. Zar und Zimmermann: Overture 06:05
9. Il matrimonio segreto, Act I: Overture 06:43
10. Si j'etais roi: Overture 07:18
11. Der Barbier von Bagdad: Overture (arr. F. Mottl for orchestra) 08:39
Personnel:
Royal Scottish National Orchestra
Lance Friedel, conductor
Recorded in Henry Wood Hall, Glasgow, Scotland, from 14th to 16th January 2014
Engineered by Phil Rowlands
Produced by Tim Handley
Digitally remastered
Download:
https://subyshare.com/3kjoeswxp1be/TheR0yalSc0ttishNati0nal0rchestraLanceFriedelGreatC0medy0vertures20152496.part1.rar.html
https://subyshare.com/zra7guz93nbh/TheR0yalSc0ttishNati0nal0rchestraLanceFriedelGreatC0medy0vertures20152496.part2.rar.html
https://subyshare.com/1j3hvq2cxruf/TheR0yalSc0ttishNati0nal0rchestraLanceFriedelGreatC0medy0vertures20152496.part3.rar.html