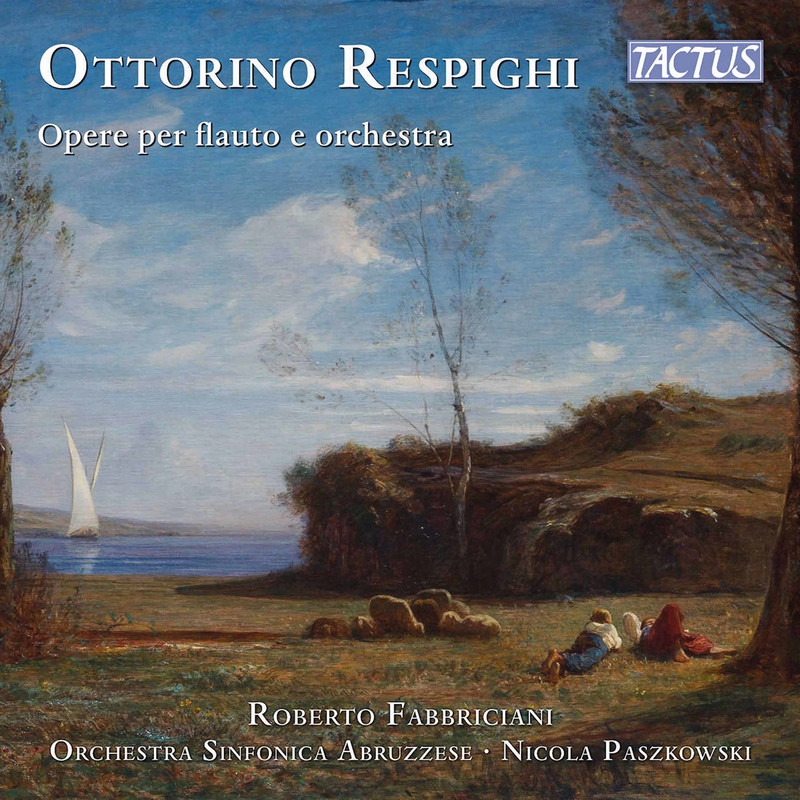 Roberto Fabbriciani, Orchestra Sinfonica Abruzzese & Nicola Paszkowski – Respighi: Opere er flauto e orchestra (2021)
FLAC (tracks) 24 bit/48 kHz | Time – 50:31 minutes | 524 MB | Genre: Classical
Studio Masters, Official Digital Download | Digital Booklet, Front Cover | © Tactus
This discographic work dedicated to the works for flute and orchestra by Ottorino Respighi – a leading exponent of the «Generation of the Eighties» and a very refined composer, gifted with an excellent skill in the use of instrumental timbres – includes the world premiere recording of two works for flute and strings that came back to light after a long oblivion (and now published by Roberto Fabbriciani for the editors Suvini Zerboni). Fabbriciani can also be considered the first interpreter ever, given that there is no evidence of performances in the period in which they were composed. The 'Suite' and the diptych 'Melodia' and 'Valse caressante' are in fact works dating back to the composer's first prolific period, remaining until now manuscripts in custody of the Museum of Music in Bologna and the Fondazione Cini in Venice. The Serenade for small orchestra and the suite 'Gli Uccelli' complete the production, expanding the vision of Respighi's compositions to the writing in his full maturity.
Tracklist:
1. Roberto Fabbriciani, Orchestra Sinfonica Abruzzese & Nicola Paszkowski – Suite pour instruments d'archet et flûte, P. 57: I. Badinage (05:14)
2. Roberto Fabbriciani, Orchestra Sinfonica Abruzzese & Nicola Paszkowski – Suite pour instruments d'archet et flûte, P. 57: II. Valse (04:12)
3. Roberto Fabbriciani, Orchestra Sinfonica Abruzzese & Nicola Paszkowski – Suite pour instruments d'archet et flûte, P. 57: III. Berçeuse de Nöel (04:57)
4. Roberto Fabbriciani, Orchestra Sinfonica Abruzzese & Nicola Paszkowski – Suite pour instruments d'archet et flûte, P. 57: IV. Furlana (04:25)
5. Roberto Fabbriciani, Orchestra Sinfonica Abruzzese & Nicola Paszkowski – Melodia e valse caressante, P. 42: I. Melodia (03:36)
6. Roberto Fabbriciani, Orchestra Sinfonica Abruzzese & Nicola Paszkowski – Melodia e valse caressante, P. 42: II. Valse caressante (03:56)
7. Orchestra Sinfonica Abruzzese & Nicola Paszkowski – Serenata per piccola orchestra, P. 54 (04:41)
8. Orchestra Sinfonica Abruzzese & Nicola Paszkowski – Gli uccelli, P. 154: I. Preludio (02:48)
9. Orchestra Sinfonica Abruzzese & Nicola Paszkowski – Gli uccelli, P. 154: II. La colomba (04:30)
10. Orchestra Sinfonica Abruzzese & Nicola Paszkowski – Gli uccelli, P. 154: III. La gallina (02:57)
11. Orchestra Sinfonica Abruzzese & Nicola Paszkowski – Gli uccelli, P. 154: IV. L'usignolo (04:56)
12. Orchestra Sinfonica Abruzzese & Nicola Paszkowski – Gli uccelli, P. 154: V. Il cucù (04:31)
Download:
https://subyshare.com/b0cksgghp9gp/R0bert0Fabbriciani0rchestraSinf0nicaAbruzzeseNic0laPaszk0wskiRespighi0pereerflaut0e0rchestra20212448.rar.html