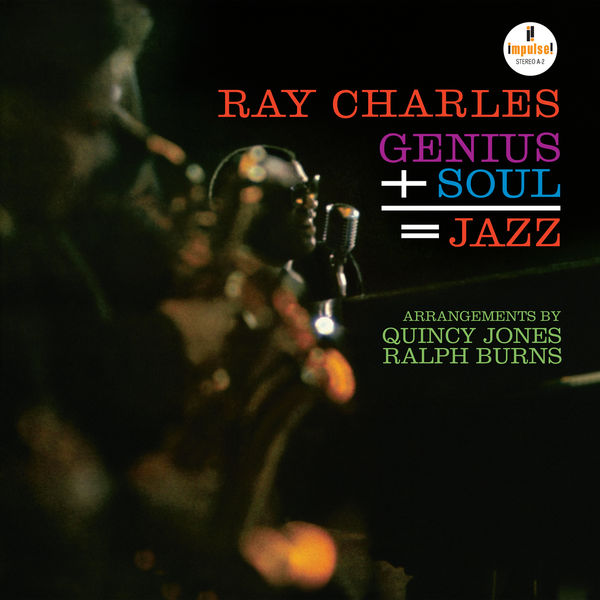 Ray Charles – Genius + Soul = Jazz (1961/2021)
FLAC (tracks) 24 bit/48 kHz | Time – 37:07 minutes | 440 MB | Genre: Jazz
Studio Masters, Official Digital Download | Front Cover | © Impulse!
Genius + Soul = Jazz is a 1961 album by Ray Charles featuring big band arrangements by Quincy Jones and Ralph Burns. Charles is accompanied by two groups drawn from members of The Count Basie Band and from the ranks of top New York session players. The album was inducted into the Grammy Hall of Fame in 2011.
One of the best early-'60s examples of soul/jazz crossover, this record, like several of his dates from the period, featured big-band arrangements (played by the Count Basie band). This fared better than some of Charles' similar outings, however, if only because it muted some of his straight pop aspirations in favor of some pretty mean and lean, cut-to-the-heart-of-the-matter B-3 Hammond organ licks. Most of the album is instrumental and swings pretty vivaciously, although Charles does take a couple of vocals with "I'm Gonna Move to the Outskirts of Town" and "I've Got News for You." Yet one of those instrumentals, a cover of the Clovers' "One Mint Julep," would give Charles one of his most unpredictable (and best) early-'60s hits.
Tracklist:
1. Ray Charles – From The Heart
2. Ray Charles – I've Got News For You
3. Ray Charles – Moanin'
4. Ray Charles – Let's Go
5. Ray Charles – One Mint Julep
6. Ray Charles – I'm Gonna Move To The Outskirts of Town
7. Ray Charles – Stompin' Room Only
8. Ray Charles – Mister C.
9. Ray Charles – Strike Up the Band
10. Ray Charles – Birth of the Blues
Download:
https://subyshare.com/rpxld02olixw/RayCharlesGeniusS0ulJazz196120212448.rar.html