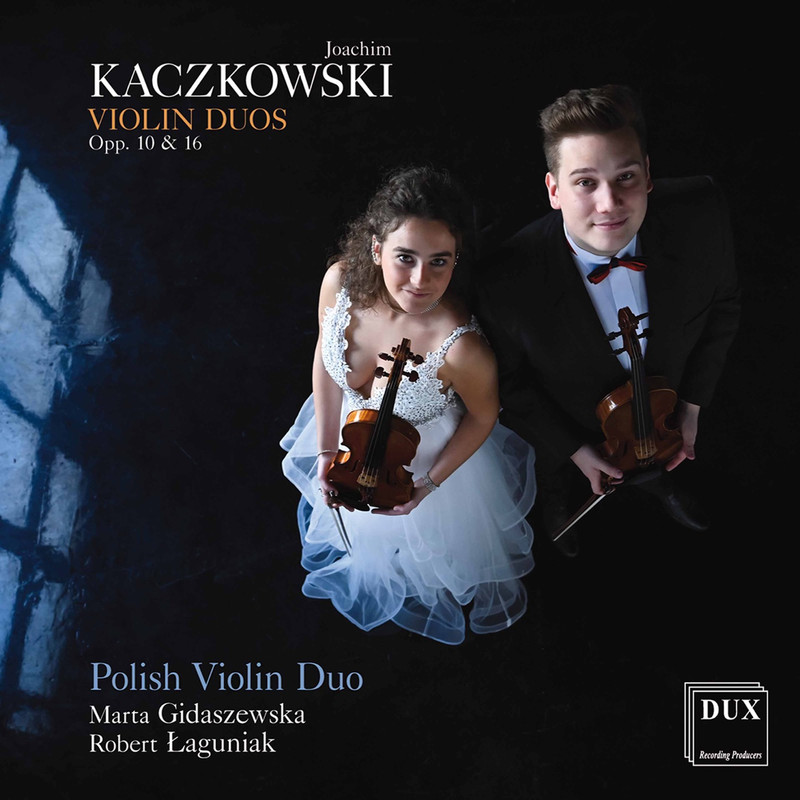 Polish Violin Duo – Kaczkowski: Violin Duos, Opp. 10 & 16 (2021)
FLAC (tracks) 24 bit/96 kHz | Time – 01:13:41 minutes | 1,41 GB | Genre: Classical
Studio Masters, Official Digital Download | Digital Booklet, Front Cover | © DUX
Joachim Kaczkowski, a Polish violinist, teacher and composer, was born in 1789 in the city of Tábor in southern Bohemia. He came from a family with strong musical traditions. Joachim Kaczkowski took his first violin lessons from his father. He grew up in Lviv at a time when such outstanding representatives of the musical community as Polish conductor and composer of German origin Józef Elsner and violinist, conductor and composer Karol Kurpiński were active there.
The form of violin duo has never gained great popularity and attention among composers of chamber music throughout the musical eras. Due to the relatively limited sound range of the violin, this kind of works, on the one hand, severely hampered the artistic potential of composers, and on the other hand, unlike the much more popular string quartets, it did not arouse much interest among a wider audience. Therefore, Joachim Kaczkowski, an excellent violin virtuoso, had a great opportunity to experiment with a rarely exploited musical form, which resulted in numerous innovative and often surprising textural and sound effects.
Tracklist:
01. Kaczkowski: Duo concertant in F Minor, Op. 10 No. 1: I. Allegro moderato
02. Kaczkowski: Duo concertant in F Minor, Op. 10 No. 1: II. Poco adagio quasi andante
03. Kaczkowski: Duo concertant in F Minor, Op. 10 No. 1: III. Allegro
04. Kaczkowski: Duo concertant in E-Flat Major, Op. 10 No. 2: I. Allegro
05. Kaczkowski: Duo concertant in E-Flat Major, Op. 10 No. 2: II. Andante un poco allegretto
06. Kaczkowski: Duo concertant in E-Flat Major, Op. 10 No. 2: III. Finale. Presto
07. Kaczkowski: Duo in C Major, Op. 16 No. 1: I. Allegro con spirito
08. Kaczkowski: Duo in C Major, Op. 16 No. 1: II. Andante
09. Kaczkowski: Duo in C Major, Op. 16 No. 1: III. Rondo. Allegretto
10. Kaczkowski: Duo in F Major, Op. 16 No. 2: I. Allegro
11. Kaczkowski: Duo in F Major, Op. 16 No. 2: II. Poco adagio
12. Kaczkowski: Duo in F Major, Op. 16 No. 2: III. Allegro vivace
13. Kaczkowski: Duo in B-Flat Major, Op. 16 No. 3: I. Allegro
14. Kaczkowski: Duo in B-Flat Major, Op. 16 No. 3: II. Romanze. Allegretto
15. Kaczkowski: Duo in B-Flat Major, Op. 16 No. 3: III. Presto
Download:
https://subyshare.com/9lhgcajlpxl6/P0lishVi0linDu0Kaczk0wskiVi0linDu0s0pp.101620212496.part1.rar.html
https://subyshare.com/cxu7i6q01u2m/P0lishVi0linDu0Kaczk0wskiVi0linDu0s0pp.101620212496.part2.rar.html