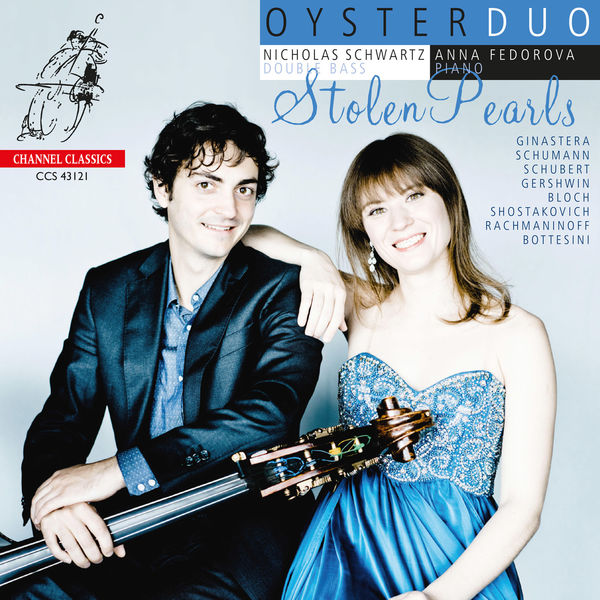 Oyster Duo – Stolen Pearls (2021)
FLAC (tracks) 24 bit/192 kHz | Time – 01:13:05 minutes | 2,3 GB | Genre: Classical
Studio Masters, Official Digital Download | Digital Booklet, Front Cover | © Channel Classics Records
On Stolen Pearls, double bassist Nicholas Schwartz and pianist Anna Fedorova present repertoire originally written for other instruments.
For this recording, the double bass and its faithful friend the piano, have journeyed extensively, bringing home a rich booty of musical discoveries, 'stolen pearls' from the nineteenth and twentieth centuries. From Argentina, Germany, Austria, the USA, Russia and Italy.
It marks the debut recording of the Oyster Duo. However, double bassist Nicholas Schwartz (Concertgebouworkest, Amsterdam) and concert pianist Anna Fedorova are certainly not new to each other. They have been playing music as a duo and in larger chamber music settings for many years. And they are newlyweds, too.
"The pieces on this album are some of the favorites of our repertoire over the last 5 years. We chose music which, although not written for the double bass, naturally suits it and enhances it with its deep and rich tones. The music highlights the vocal qualities, diverse genre styles and virtuoso capabilities of the instrument and its player."
Tracklist:
1. Oyster Duo – I. Chacarera (Arr. for Double Bass and Piano)
2. Oyster Duo – II. Triste (Arr. for Double Bass and Piano)
3. Oyster Duo – III. Zamba (Arr. for Double Bass and Piano)
4. Oyster Duo – IV. Arrorró (Arr. for Double Bass and Piano)
5. Oyster Duo – V. Gato (Arr. for Double Bass and Piano)
6. Oyster Duo – I. Zart und mit Ausdruck (Arr. for Double Bass and Piano)
7. Oyster Duo – II. Lebhaft, leicht (Arr. for Double Bass and Piano)
8. Oyster Duo – III. Rasch und mit Feuer (Arr. for Double Bass and Piano)
9. Oyster Duo – I. Allegro moderato (Arr. for Double Bass and Piano)
10. Oyster Duo – II. Adagio (Arr. for Double Bass and Piano)
11. Oyster Duo – III. Allegretto (Arr. for Double Bass and Piano)
12. Oyster Duo – Prelude No. 2: Andante con moto e poco rubato (Arr. for Double Bass and Piano)
13. Oyster Duo – Jewish Life, B. 54: Prayer (Arr. for Double Bass and Piano)
14. Oyster Duo – The Limpid Stream, Ballet Suite No. 2, Op. 39a: II. Adagio (Arr. for Double Bass and Piano)
15. Oyster Duo – 6 Romances, Op. 4: Ne poi krasavitsa (Arr. for Double Bass and Piano)
16. Oyster Duo – Tarantella (Arr. for Double Bass and Piano)
Download:
https://subyshare.com/9ejbthz0fevh/0ysterDu0St0lenPearls202124192.part1.rar.html
https://subyshare.com/a19615hl88d6/0ysterDu0St0lenPearls202124192.part2.rar.html
https://subyshare.com/v74vqxcwxxtf/0ysterDu0St0lenPearls202124192.part3.rar.html