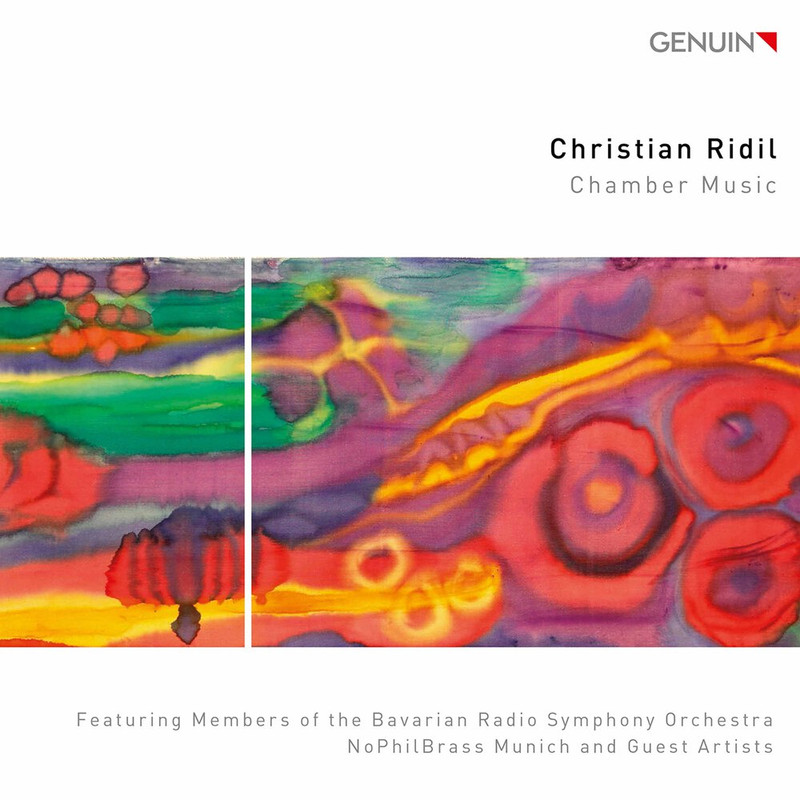 NoPhilBrass Munich – Christian Ridil: Chamber Music (2021)
FLAC (tracks) 24 bit/96 kHz | Time – 01:15:05 minutes | 1,29 GB | Genre: Classical
Studio Masters, Official Digital Download | Digital Booklet, Front Cover | © Genium
World premiere recordings are brought together on this new GENUIN album featuring works by the composer Christian Ridil: Renowned musicians from the Bavarian Radio Symphony Orchestra, among others, play in formations ranging from brass quintet to flute and percussion to the exquisite combination of chromatic harmonica and harpsichord. The works of the Goethe University Frankfurt's former university music director are characterized by stylistic diversity, wit, charm, and virtuosity and yet bear Ridil's clear signature. Absolutely worth discovering!

Tracklist:
1. Various Artists – Christian Ridil – Ridil: 4 Humoresques for Brass Quintet "The Meeting": No. 1, With a Kind of Crypticness
2. Various Artists – Christian Ridil – Ridil: 4 Humoresques for Brass Quintet "The Meeting": No. 2, Like a Bavarian Zwiefacher
3. Various Artists – Christian Ridil – Ridil: 4 Humoresques for Brass Quintet "The Meeting": No. 3, Slow
4. Various Artists – Christian Ridil – Ridil: 4 Humoresques for Brass Quintet "The Meeting": No. 4, Not Too Fast
5. Various Artists – Christian Ridil – Ridil: Märchenbilder: I. O.B.
6. Various Artists – Christian Ridil – Ridil: Märchenbilder: II. Quarter Note = 100
7. Various Artists – Christian Ridil – Ridil: Märchenbilder: Intermezzo
8. Various Artists – Christian Ridil – Ridil: Märchenbilder: III. Quarter Note = 60
9. Various Artists – Christian Ridil – Ridil: Märchenbilder: IV. Quarter Note = 116
10. Various Artists – Christian Ridil – Ridil: Variations on a Hungarian Dance: Introduktion
11. Various Artists – Christian Ridil – Ridil: Variations on a Hungarian Dance: Thema
12. Various Artists – Christian Ridil – Ridil: Variations on a Hungarian Dance: Var. 1, L'sso tempo
13. Various Artists – Christian Ridil – Ridil: Variations on a Hungarian Dance: Var. 2, Saragiga. Solenne
14. Various Artists – Christian Ridil – Ridil: Variations on a Hungarian Dance: Var. 3, Allegro
15. Various Artists – Christian Ridil – Ridil: Variations on a Hungarian Dance: Var. 4, Tempo di valzer
16. Various Artists – Christian Ridil – Ridil: Variations on a Hungarian Dance: Var. 5, Gigabanda. Un poco giocoso
17. Various Artists – Christian Ridil – Ridil: Variations on a Hungarian Dance: Var. 6, Fuga con tema. Un poco sfrenato
18. Various Artists – Christian Ridil – Ridil: Platzkonzert: I. Introduction und Schützenmarsch samt Trio
19. Various Artists – Christian Ridil – Ridil: Platzkonzert: II. Wilde Jagd!
20. Various Artists – Christian Ridil – Ridil: Platzkonzert: III. Nächtliches Intermezzo
21. Various Artists – Christian Ridil – Ridil: Platzkonzert: IV. Parade
22. Various Artists – Christian Ridil – Ridil: 2 Danses Macabres: No. 1, Lento
23. Various Artists – Christian Ridil – Ridil: 2 Danses Macabres: No. 2, Presto
Download:
https://subyshare.com/cjiricvnk8xi/N0PhilBrassChristianRidilChamberMusic20212496.part1.rar.html
https://subyshare.com/ywvyjuprbl6v/N0PhilBrassChristianRidilChamberMusic20212496.part2.rar.html