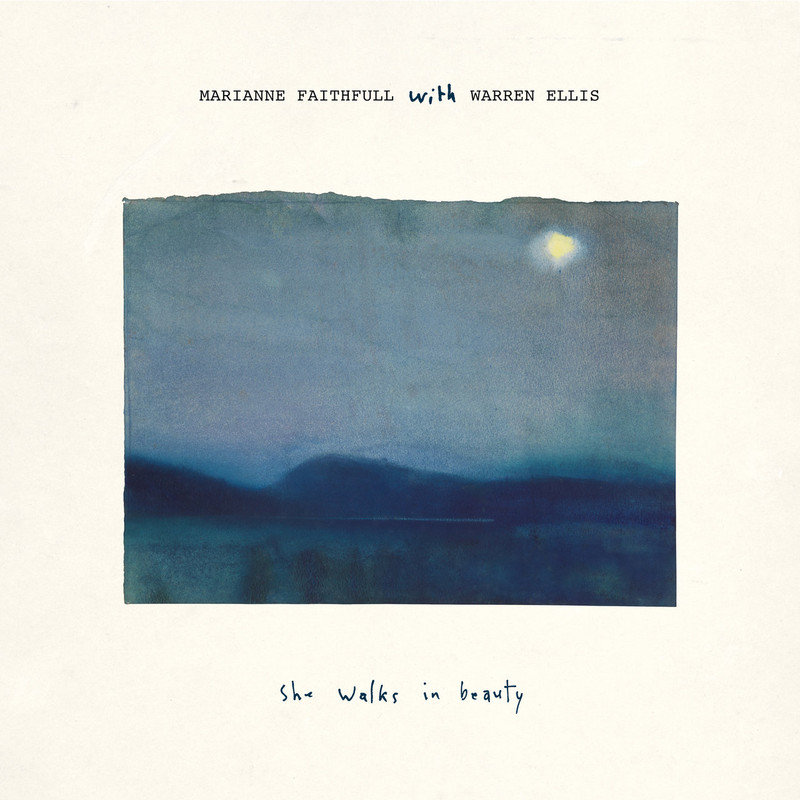 Marianne Faithfull – She Walks in Beauty (with Warren Ellis) (2021)
FLAC (tracks) 24 bit/44,1 kHz | Time – 46:25 minutes | 448 MB | Genre: Folk
Studio Masters, Official Digital Download | Front Cover | © BMG Rights Mgmt France SARL
Marianne Faithfull pays tribute to England's great romantic poets on her new album, She Walks in Beauty, which she made in collaboration with Bad Seeds and Dirty Three violinist Warren Ellis.
They're previewing the record with her reading of Lord Byron's "She Walks in Beauty," which he wrote in June 1814. Birds chirp on the recording before piano and ethereal synths provide a bed for Faithfull's recitation of the poem, which describes a woman's unparalleled grace. The video for the song, which was directed by Yann Orhan, features a painting by Colin Self. The album comes out on April 30th.
"It's very romantic, not like you imagine Byron to be," Faithfull said of the poem in a statement. "It's so beautiful, and that's why I like it. I love the other side of Byron, too, but this is really amazing, sublime. And I was very drawn to the ability to do really beautiful rhymes. I think that's from being a songwriter. It's incredibly nice. Not what I connect with Lord Byron at all."
The works of Lord Byron, John Keats, Thomas Hood, Percy Bysshe Shelley, William Wordsworth and Alfred Tennyson are not just for tortured young men in frock coats, wandering alone across rainy hills. Far from it: a 74 year-old woman, battered by excess, illness, and a full life, has also appropriated this feverish 18th-century poetry. Marianne Faithfull, weighed down by the experience of surviving Covid, brings great intensity to her recitation of these verses, and makes them very much her own. She has called on the reliable Warren Ellis, a former Bad Seed, to cut a musical backcloth which offers both restraint and grandiloquence. Ghostly synths and heavy strings wrap around Dame Marianne's craggy vocals. These songs are wreathed in a dreamy twilight that stops just short of the macabre; the landscapes roll by, and the poetry of these past greats steps out into our troubled present. Nick Cave brings piano and percussion to most of the tracks, and Vincent Segal his cello. Even Brian Eno comes in to play clarinet on The Bridge of Sighs. The result is a gorgeous backdrop for a magnificent album, and one which confirms that Marianne Faithfull, a fixture of the rock scene since the early 60s, is still a great and unique artist. – Marc Zisman
Tracklist:
1. Marianne Faithfull – She Walks in Beauty (with Warren Ellis)
2. Marianne Faithfull – The Bridge of Sighs (with Warren Ellis)
3. Marianne Faithfull – La Belle Dame sans Merci (with Warren Ellis)
4. Marianne Faithfull – Ode to a Nightingale (with Warren Ellis)
5. Marianne Faithfull – To Autumn (with Warren Ellis)
6. Marianne Faithfull – Ozymandias (with Warren Ellis)
7. Marianne Faithfull – The Prelude: Book One Introduction (with Warren Ellis)
8. Marianne Faithfull – Surprised by Joy (with Warren Ellis)
9. Marianne Faithfull – To the Moon (with Warren Ellis)
10. Marianne Faithfull – So We'll Go No More a Roving (with Warren Ellis)
11. Marianne Faithfull – The Lady of Shallot (with Warren Ellis)
Download:
https://subyshare.com/svk58rivo7uz/MarianneFaithfullSheWalksinBeautywithWarrenEllis202124441.rar.html