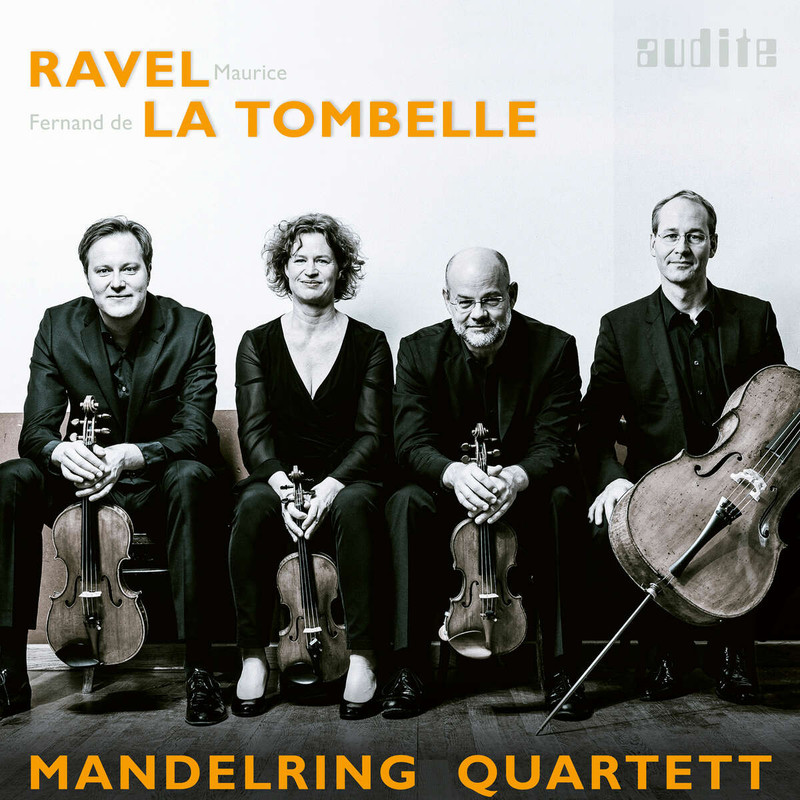 Mandelring Quartett – Ravel & La Tombelle String Quartets (2021)
FLAC (tracks) 24 bit/48 kHz | Time – 57:21 minutes | 568 MB | Genre: Classical
Studio Masters, Official Digital Download | Digital Booklet, Front Cover | © audite Musikproduktion
​Although Maurice Ravel, in his string quartet, explicitly refers to the quartet written ten years earlier by his colleague, Claude Debussy, he opts to follows his own, new path and arrives at a distinctive Ravelian tone: colourful, refined and saturated with that flair of the artificial which also characterises his beloved porcelain and glass artworks, ornamental shrubs and bonsai trees. At the same time, the quartet is meticulously constructed and so rich in ingenious details that it offers room for discovery even after repeated listening.
A great unknown and certainly one of the most fascinating protagonists of French musical life in the late nineteenth and early twentieth centuries is Fernand de La Tombelle: pianist, organist, writer, astronomer, visual artist, author of a guide on a traditional recipe involving foie gras and truffles, passionate cyclist – and prolific composer: his œuvre comprises more than 500 works, including a large number of chamber music works. His string quartet written in 1895 is rooted in the Viennese classical tradition and yet is unmistakably French: highly expressive, harmonically colourful and extremely elegant at the same time – a work that makes one want to discover more by La Tombelle!
Founded in 1983 by German siblings, the Mandelring Quartett has recorded extensively. It has produced complete works and anthologies that (perhaps for the time being) avoid Haydn, Mozart and Beethoven and concentrate on Schubert, Shostakovich, Mendelssohn, Onslow, Goldschmidt, Brahms and Janáček.
In this new album, they wisely include Maurice Ravel's famous Quartet in F alongside the only piece of its kind composed by Fernand de La Tombelle, written seven years before the work by his younger brother. Long one of the vast crowd of those forgotten by the history of music, La Tombelle (1854-1928) was one of the founders of the Schola Cantorum in Paris alongside Vincent d'Indy. A movement of rediscovery, largely initiated by the Bru Zane Foundation in Venice, has been taking place in recent years around this prolific composer who was curious about everything from poetry to astronomy, photography, the plastic arts and gastronomy.
His Quartet in E major, part of the French quartet revival with those of Vincent d'Indy, Chausson and Albéric Magnard, is a welcome discovery. La Tombelle's language, clearly inherited from the German composers of the 19th century, is that of a cultivated and humanist aristocrat, oscillating between classicism and modernity. The overwhelming sunlight emanating from the young Ravel's pure diamond can illuminate this rare work and at the same time overshadow it, depending on one's tastes, but the risk was worth taking. – François Hudry
Tracklist:
01. Mandelring Quartett – String Quartet in F Major: I. Allegro moderato. Très Doux
02. Mandelring Quartett – String Quartet in F Major: II. Assez vif. Très Rythmé
03. Mandelring Quartett – String Quartet in F Major: III. Très Lent
04. Mandelring Quartett – String Quartet in F Major: IV. Vif et Agité
05. Mandelring Quartett – String Quartet in E Major, Op. 36: I. Largo ma non troppo. Allegro
06. Mandelring Quartett – String Quartet in E Major, Op. 36: II. Allegretto assai Scherzando
07. Mandelring Quartett – String Quartet in E Major, Op. 36: III. Adagio con molto Espressione
08. Mandelring Quartett – String Quartet in E Major, Op. 36: IV. Allegro con Brio
Download:
https://subyshare.com/ylzeb3m9xqfa/MandelringQuartettRavelLaT0mbelleStringQuartets20212448.rar.html