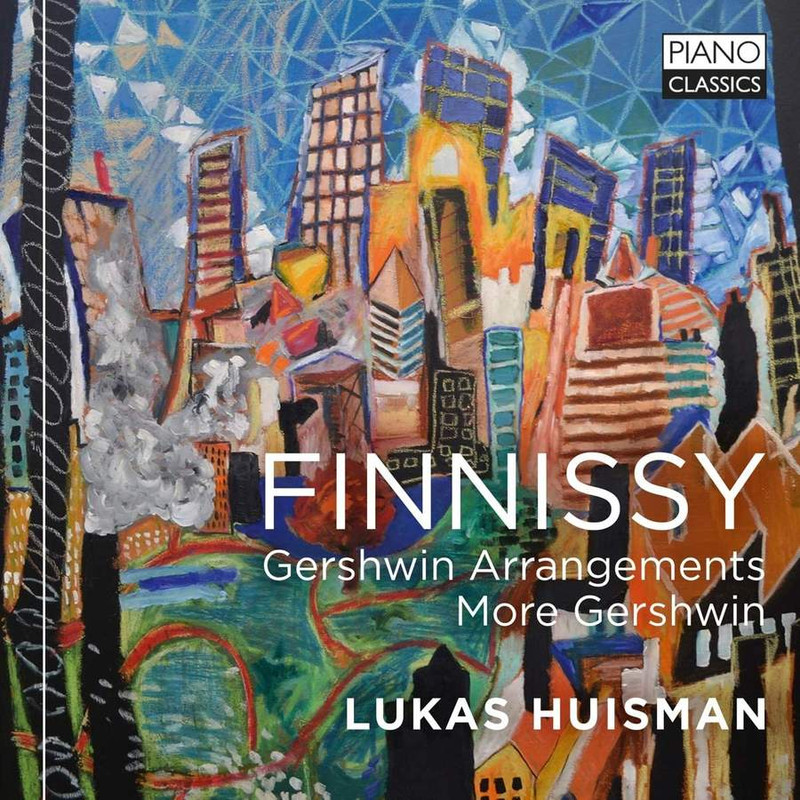 Lukas Huisman – Finnissy: Gershwin Arrangements, More Gershwin (2021)
FLAC (tracks) 24 bit/44,1 kHz | Time – 01:19:49 minutes | 622 MB | Genre: Classical
Studio Masters, Official Digital Download | Digital Booklet, Front Cover | © Piano Classics
While Michael Finnissy, born in 1946, has become known as one of the UK's most original voices, he began his career pursuing the dual career of a pianist and composer. As a performer he was associated with the virtuoso solo repertory, and Finnissy's own creative development has been punctuated by significant piano works. The epic nine-movement solo cycle of English Country-Tunes (1977) established Finnissy internationally as a voice of originality and distinction. The History of Photography in Sound (1995–2001) is his magnum opus, lasting five-and-a-half hours, but hardly less important are his substantial contributions to the art of piano transcription inherited from the 19th century: the Verdi Transcriptions (1972-2005), and his bittersweet sets of Gershwin Arrangements (1975-1988) and More Gershwin (1989–90).
Finnissy's near-encyclopedic knowledge of art music, as well as many other genres such as blues and jazz, allows him to pay affectionate homage to the object of his consideration, before raising the threat of its distortion and corruption. For this new recording, Lukas Huisman's own illuminating booklet essay identifies the "friction" at the heart of Finnissy's Gershwin: a combining of styles "in which both vocabularies flourish", jazz and modernism. In most cases Gershwin's famous melodies are, without serious alterations, recontextualized. The arrangements are rich and detailed with a polyphonic web that is filled with layers of meaning.
The results are consistently tense, funny and charming all at once. The composer himself has explained: "Tempo and harmony change from fast to slow, light to dark, and vice versa. Forceful sentiments become quite docile. Unbridled joy turns to melancholy. Blithe security is transformed into tense and upsetting ambiguity. Naïve grows cynical. Day changes into night, and girls become boys".
Lukas Huisman is one of Belgium's foremost pianists specializing in unusual and often contemporary repertoire. His complete recording of the piano output by Toru Takemitu has won international acclaim, including a 5* review on WDR3, 4* review in BBC Music Magazine, and was nominated for the Preis der deutschen Schallplattenkritik.
Tracklist:
01. How Long Has This Been Going On?
02. Things Are Looking Up
03. A Foggy Day in London Town
04. Love Is Here to Stay
05. They Can't Take That Away from Me
06. Shall We Dance?
07. They're Writing Songs of Love, but Not for Me
08. Fidgety Feet
09. Embraceable You
10. Waiting for the Sun to Come Out
11. Innocent Ingénue Baby
12. Blah, Blah, Blah
13. Boy Wanted
14. Limehouse Nights
15. Wait a Bit, Susie
16. I'd Rather Charleston
17. Isn't It Wonderful!
18. Nobody but You
19. Swanee
20. Dixie Rose
21. Someone Believes in You
22. Nashville Nightingale
Download:
https://subyshare.com/3esnyx6evs9c/LukasHuismanFinnissyGershwinArrangementsM0reGershwin202124441.rar.html