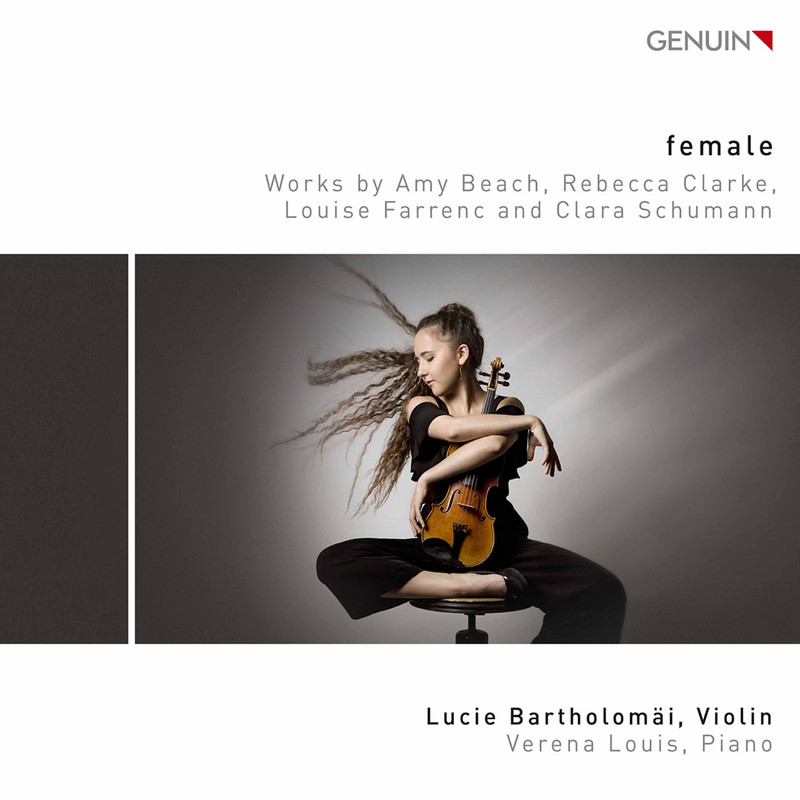 Lucie Bartholomäi & Verena Louis – Female (2021)
FLAC (tracks) 24 bit/96 kHz | Time – 59:08 minutes | 1 GB | Genre: Classical
Studio Masters, Official Digital Download | Digital Booklet, Front Cover | © Genuin
The very young violinist Lucie Bartholomäi from the Ore Mountains presents an extraordinary debut recital. For her first production with Genuin, she plays works written exclusively by great female composers. In addition to the romantic music of Amy Beach, Louise Farrenc, and Clara Schumann, the program includes sparkling miniatures by Rebecca Clarke. Bartholomäi and her piano partner Verena Louis devote themselves to this too seldom performed repertoire with great attention to detail, chamber music intimacy, and richness of color. A real voyage of discovery!
Tracklist:
01. Lucie Bartholomäi & Verena Louis – Clarke: Chinese Puzzle (Version for Violin & Piano)
02. Lucie Bartholomäi & Verena Louis – Farrenc: Violin Sonata No. 2 in A Major, Op. 39: I. Allegro grazioso
03. Lucie Bartholomäi & Verena Louis – Farrenc: Violin Sonata No. 2 in A Major, Op. 39: II. Scherzo. Allegro
04. Lucie Bartholomäi & Verena Louis – Farrenc: Violin Sonata No. 2 in A Major, Op. 39: III. Adagio
05. Lucie Bartholomäi & Verena Louis – Farrenc: Violin Sonata No. 2 in A Major, Op. 39: IV. Finale. Allegro
06. Lucie Bartholomäi & Verena Louis – Clarke: 2 Pieces for Violin & Piano: No. 1, Lullaby
07. Lucie Bartholomäi & Verena Louis – Schumann: 3 Romances for Violin & Piano, Op. 22: No. 1, Andante molto
08. Lucie Bartholomäi & Verena Louis – Schumann: 3 Romances for Violin & Piano, Op. 22: No. 2, Allegretto
09. Lucie Bartholomäi & Verena Louis – Schumann: 3 Romances for Violin & Piano, Op. 22: No. 3, Leidenschaftlich schnell
10. Lucie Bartholomäi & Verena Louis – Clarke: Midsummer Moon
11. Lucie Bartholomäi & Verena Louis – Beach: Romance for Violin & Piano, Op. 23
Download:
https://subyshare.com/21vthm2dmojs/LucieBarth0l0miVerenaL0uisFemale20212496.part1.rar.html
https://subyshare.com/kemkmnci6f5o/LucieBarth0l0miVerenaL0uisFemale20212496.part2.rar.html