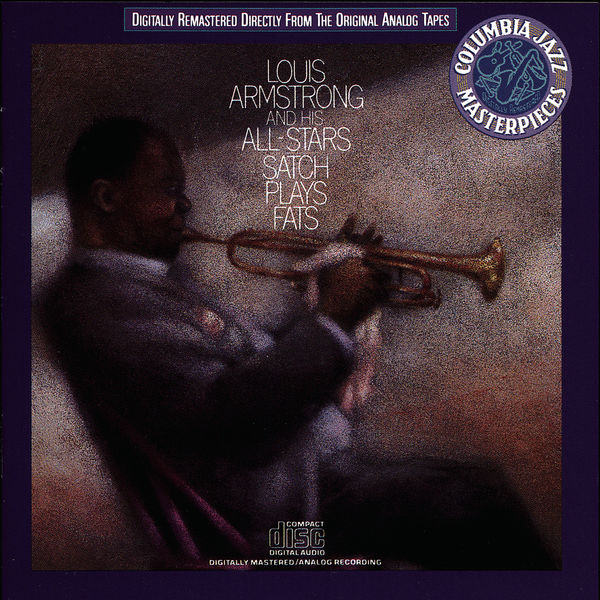 Louis Armstrong & His All Stars – Satch Plays Fats (1955/1986/2015)
FLAC (tracks) 24 bit/192 kHz | Time – 38:19 minutes | 701 MB | Genre: Jazz
Studio Masters, Official Digital Download | Front Cover | © Columbia
In 1955, Louis Armstrong, along with vocalist Velma Middleton, got into the studio to pay tribute to the late Fats Waller. All the standards are here: "Honeysuckle Rose," "Squeeze Me," "Ain't Misbehavin," rendered in fine and mellow but gently, genially swinging fashion. Armstrong's trumpet is superb and his voice carries the good-time spirit of Waller's music.
Louis Armstrong and Fats Waller only worked together twice, briefly in 1925 in Erskine Tate's band and four years later in the New York revue Connie's Hot Chocolates. But Waller made an indelible enough impression for Satchmo to record the tribute album Satch Plays Fats: The Music of Fats Waller in 1955, when such ideas were new. The nine tracks feature Armstrong ably supported by his All-Stars on such classics as "Honeysuckle Rose," "Squeeze Me," and "Ain't Misbehavin'." The mid-'50s was a fertile time for Armstrong, and this makes for a stellar package.
Tracklist
1. Louis Armstrong & His All Stars – Honeysuckle Rose
2. Barney Bigard – Blue Turning Grey Over You
3. Louis Armstrong & His All Stars – I'm Crazy 'Bout My Baby
4. Barney Bigard – Squeeze Me
5. Barney Bigard – Keepin' Out of Mischief Now
6. Barney Bigard – All That Meat And No Potatoes
7. Louis Armstrong & His All Stars – I've Got a Feeling I'm Falling
8. Barney Bigard – (What Did I Do To Be So) Black And Blue (Shorter Version)
9. Barney Bigard – Ain't Misbehavin'
Download:
https://subyshare.com/hdw6qplo1z1n/L0uisArmstr0ngHisAllStarsSatchPlaysFats19551986201524192.rar.html