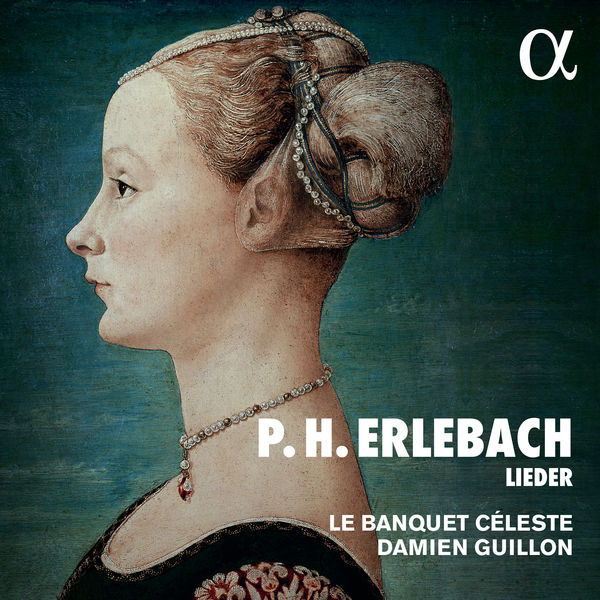 Le Banquet Céleste – P.H. Erlebach – Lieder (2021)
FLAC (tracks) 24 bit/96 kHz | Time – 01:10:51 minutes | 1,29 GB | Genre: Classical
Studio Masters, Official Digital Download | Digital Booklet, Front Cover | © Alpha Classics
Accompanied by his ensemble Le Banquet Céleste, the countertenor Damien Guillon puts his voice at the service of a program dedicated to the vocal pieces of the German Baroque composer Philipp Heinrich Erlebach, whose complete work was largely destroyed in the fire of Rudolstadt Castle in 1735. Among the works that have been handed down to us are the two collections Harmonische Freude musikalischer Freunde, which combine 50 and 25 arias for 1, 2, 3 or 4 solo voices, an instrumental ensemble and a basso continuo in two parts. Most of the texts of the arias, written in Old German, show people as being at the mercy of an unpredictable and fleeting fate.
In addition to natural phenomena such as Storms, dark clouds, withered leaves selects the Poet as a metaphor for the anguish and 3434die Not the Herzens3434 the term "blood comet". In fact, in 1680 the largest comet of the 17th century appeared in Europe: the people of that time feared these celestial bodies and saw bad signs in them.
Tracklist:
1. Le Banquet Céleste – Harmonische Freude Musicalischer Freunde: Seine Not recht überlegen, Wird manch Tränen – Bad erregen
2. Le Banquet Céleste – Harmonische Freude Musicalischer Freunde: Des Tadlers Stich, Verlache ich
3. Le Banquet Céleste – Harmonische Freude Musicalischer Freunde: Liebe in Abwesenheit, Grünet durch Beständigkeit
4. Le Banquet Céleste – I. Adagio – Allegro – Adagio
5. Le Banquet Céleste – II. Allemande
6. Le Banquet Céleste – III. Courante
7. Le Banquet Céleste – IV. Sarabande – Variatio
8. Le Banquet Céleste – V. Gigue
9. Le Banquet Céleste – Harmonische Freude Musicalischer Freunde: Wer sich dem Himmel übergeben, Wird endlich Ruh' und Glück erleben
10. Le Banquet Céleste – Harmonische Freude Musicalischer Freunde: An Jammer und Beschwerlichkeit, da fehlt es hier zu keiner Zeit
11. Le Banquet Céleste – Harmonische Freude Musicalischer Freunde: Auf des Kreuzes Finsternis, folgt die Sonne ganz gewiß
12. Le Banquet Céleste – I. Adagio
13. Le Banquet Céleste – II. Allegro
14. Le Banquet Céleste – III. Adagio
15. Le Banquet Céleste – IV. Allemande
16. Le Banquet Céleste – V. Courante
17. Le Banquet Céleste – VI. Sarabande – Variatio
18. Le Banquet Céleste – VII. Gigue
19. Le Banquet Céleste – Harmonische Freude Musicalischer Freunde: Ich finde schlechte Freud, Bei Unempfindlichkeit
20. Le Banquet Céleste – Harmonische Freude Musicalischer Freunde: Die Zeit verkehret, Was uns beschweret
Download:
https://subyshare.com/yh6ey433peib/LeBanquetClesteP.H.ErlebachLieder20212496.part1.rar.html
https://subyshare.com/sgehe3lxn197/LeBanquetClesteP.H.ErlebachLieder20212496.part2.rar.html