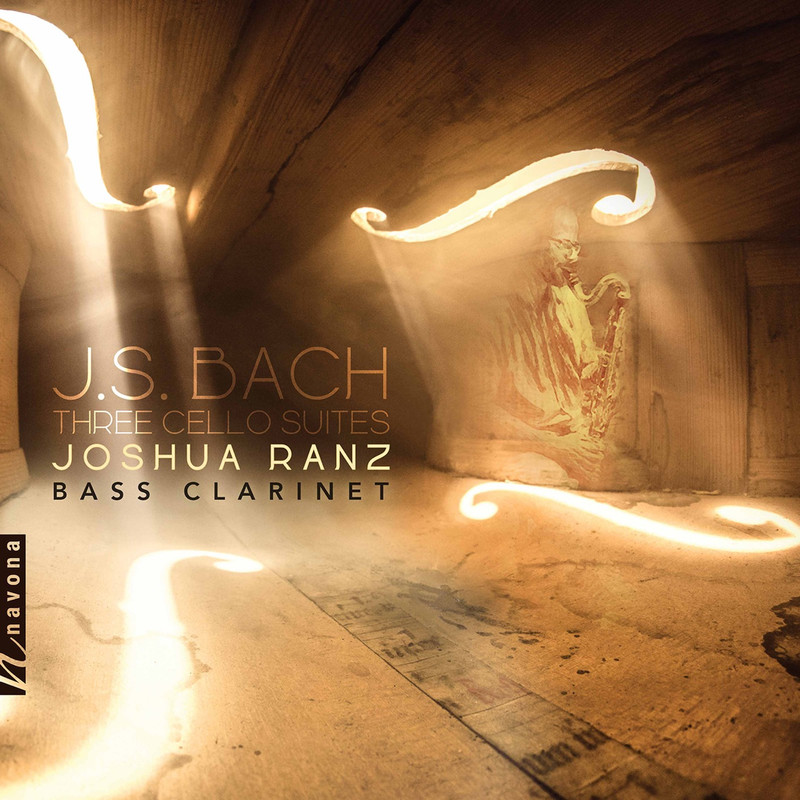 Joshua Ranz – J.S. Bach: 3 Cello Suites (Arr. J. Ranz for Bass Clarinet) (2021)
FLAC (tracks) 24 bit/44,1 kHz | Time – 01:03:03 minutes | 498 MB | Genre: Classical
Studio Masters, Official Digital Download | Front Cover | © Navona
THREE CELLO SUITES from clarinetist Joshua Ranz and Navona Records is a truly groundbreaking take on Bach's legendary works; In this album, for the first time ever, listeners may enjoy three unabridged cello suites by Bach arranged for the bass clarinet. Ranz selected Suites 1, 4, and 2 for this recording because, together, they form a cohesive and dynamic whole. Ranz holds the chair of principal clarinet for the Los Angeles Chamber Orchestra, and has played on such blockbuster soundtracks as Toy Story 3 and 4, and Star Wars episodes VII and IX. He can be heard prominently featured in La La Land, Catch Me If You Can, and An American Pickle. Ranz lends a fresh voice to Bach's profoundly-beautiful music in THREE CELLO SUITES.
Tracklist:
01. Bach: Cello Suite No. 1 in G Major, BWV 1007 (Arr. J. Ranz for Bass Clarinet): I. Prelude
02. Bach: Cello Suite No. 1 in G Major, BWV 1007 (Arr. J. Ranz for Bass Clarinet): II. Allemande
03. Bach: Cello Suite No. 1 in G Major, BWV 1007 (Arr. J. Ranz for Bass Clarinet): III. Courante
04. Bach: Cello Suite No. 1 in G Major, BWV 1007 (Arr. J. Ranz for Bass Clarinet): IV. Sarabande
05. Bach: Cello Suite No. 1 in G Major, BWV 1007 (Arr. J. Ranz for Bass Clarinet): V. Menuets I & II
06. Bach: Cello Suite No. 1 in G Major, BWV 1007 (Arr. J. Ranz for Bass Clarinet): VI. Gigue
07. Bach: Cello Suite No. 4 in E-Flat Major, BWV 1010 (Arr. J. Ranz for Bass Clarinet): I. Prelude
08. Bach: Cello Suite No. 4 in E-Flat Major, BWV 1010 (Arr. J. Ranz for Bass Clarinet): II. Allemande
09. Bach: Cello Suite No. 4 in E-Flat Major, BWV 1010 (Arr. J. Ranz for Bass Clarinet): III. Courante
10. Bach: Cello Suite No. 4 in E-Flat Major, BWV 1010 (Arr. J. Ranz for Bass Clarinet): IV. Sarabande
11. Bach: Cello Suite No. 4 in E-Flat Major, BWV 1010 (Arr. J. Ranz for Bass Clarinet): V. Bourées I & II
12. Bach: Cello Suite No. 4 in E-Flat Major, BWV 1010 (Arr. J. Ranz for Bass Clarinet): VI. Gigue
13. Bach: Cello Suite No. 2 in D Minor, BWV 1008 (Arr. J. Ranz for Bass Clarinet): I. Prelude
14. Bach: Cello Suite No. 2 in D Minor, BWV 1008 (Arr. J. Ranz for Bass Clarinet): II. Allemande
15. Bach: Cello Suite No. 2 in D Minor, BWV 1008 (Arr. J. Ranz for Bass Clarinet): III. Courante
16. Bach: Cello Suite No. 2 in D Minor, BWV 1008 (Arr. J. Ranz for Bass Clarinet): IV. Sarabande
17. Bach: Cello Suite No. 2 in D Minor, BWV 1008 (Arr. J. Ranz for Bass Clarinet): V. Menuets I & II
18. Bach: Cello Suite No. 2 in D Minor, BWV 1008 (Arr. J. Ranz for Bass Clarinet): VI. Gigue
Download:
https://subyshare.com/3zlvypp2hf7a/J0shuaRanzJ.S.Bach3Cell0SuitesArr.J.Ranzf0rBassClarinet202124441.rar.html