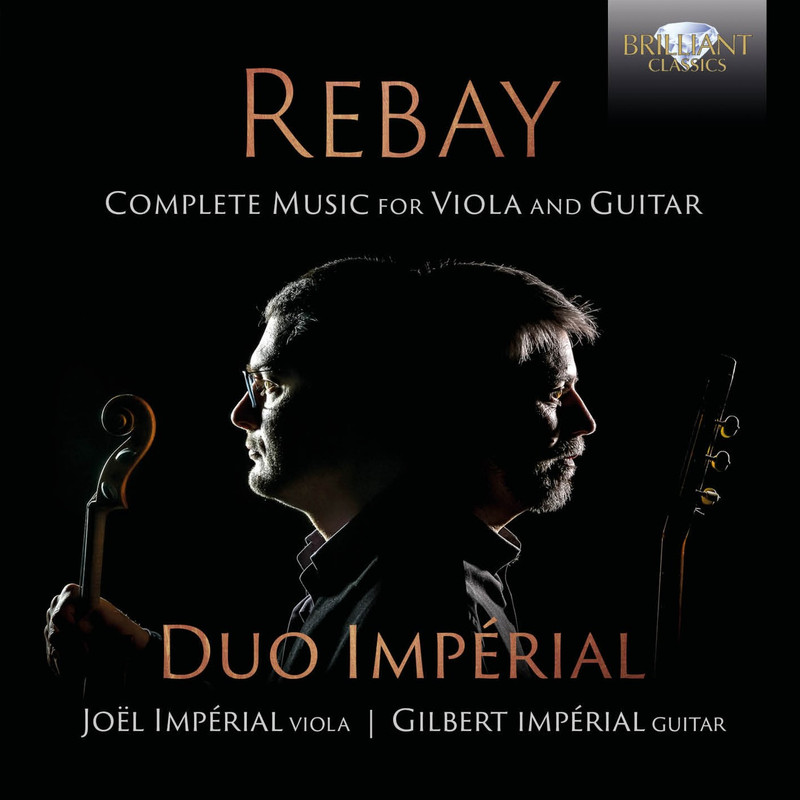 Joël Impérial, Gilbert Impérial – Rebay – Music for Viola and Guitar (2021)
FLAC (tracks) 24 bit/44,1 kHz | Time – 52:35 minutes | 517 MB | Genre: Classical
Studio Masters, Official Digital Download | Front Cover | © Brilliant Classics
While Segovia's famous Paris recital of 7 April 1924 was no doubt a major turning point in 20th-century guitar music, inspiring composers like Albert Roussel, Georges Migot, Alexandre Tansman and many others, the city of Vienna was simultaneously the setting of a quieter, yet nonetheless important, revolution. What was likely the first ever conservatory programme for the guitar was inaugurated in 1923 at the Weiner Akademie under the tutelage of Jakob Ortner, and this class nurtured an interest in the classical guitar in composer Ferdinand Rebay (1880–1953) who served at the Weiner Akademie as a piano teacher from 1920–1944.
Born to a family from Lake Como, Rebay studied theory with Robert Fuchs and piano with Josef Hofmann. After first emerging as a composer of lieder (a genre that remained central to his compositional output), he was encouraged by Fuchs to write both chamber and symphonic instrumental music.
In an important 1926 article in the Österreichische Gitarre-Zeitschrift (a journal published by Ortner) Rebay boldly intervened in the debate over the languishing guitar repertoire: 'I set out to write duets for individual wind instruments with guitar accompaniment, delighted to discover that the mixture of oboe or clarinet with the guitar sounds much more appealing than the mixture of these wind instruments with piano'. For the first time in the history of the guitar, a composer – not a guitarist! – had identified chamber rather than solo music as the most suitable means for the creation and promotion of the instrument's identity. Loyal to this idea, between 1924 and the early 50s Rebay composed more than 600 pieces for guitar, many of them chamber works, thus entering the ranks of one of the instrument's most prolific composers.
An indomitable curiosity for experimenting with timbre would lead Rebay to pair the guitar with every instrument, leading to a corpus of music for viola and guitar that while small is nevertheless important for the rarity both of the combination and of 20th-century Viennese viola repertoire of any kind.
With this recording, Gilbert and Joël Impeìrial add a crucial piece to the process of discovery and appreciation of the music of this Viennese composer, in works that join the ranks of the most important recorded music for viola and guitar.
Tracklist:
1. Joël Impérial & Gilbert Impérial – Sonata in D Minor: I. Molto moderato
2. Joël Impérial & Gilbert Impérial – Sonata in D Minor: II. Andante cantabile
3. Joël Impérial & Gilbert Impérial – Sonata in D Minor: III. Scherzo. Allegro
4. Joël Impérial & Gilbert Impérial – Sonata in D Minor: IV. Rondò. Allegretto grazioso
5. Joël Impérial & Gilbert Impérial – Walzer, Op. 34 No. 2: I. 5. Lento
6. Joël Impérial & Gilbert Impérial – Kleine Moderne Tanz-Suite in G Major: I. Kleiner Marsch
7. Joël Impérial & Gilbert Impérial – Kleine Moderne Tanz-Suite in G Major: II. Tango
8. Joël Impérial & Gilbert Impérial – Kleine Moderne Tanz-Suite in G Major: III. Onestep
9. Joël Impérial & Gilbert Impérial – Kleine Moderne Tanz-Suite in G Major: IV. Boston
10. Joël Impérial & Gilbert Impérial – Kleine Moderne Tanz-Suite in G Major: V. Kleiner Shimmy
11. Joël Impérial & Gilbert Impérial – 3 Russian Folk Songs: I. Gesang der Wolga-Schlepper
12. Joël Impérial & Gilbert Impérial – 3 Russian Folk Songs: II. Wiegenlied
13. Joël Impérial & Gilbert Impérial – 3 Russian Folk Songs: III. Der rote Sarafan
14. Joël Impérial & Gilbert Impérial – Lyrische Suite: I. Præludium
15. Joël Impérial & Gilbert Impérial – Lyrische Suite: II. Elegie
16. Joël Impérial & Gilbert Impérial – Lyrische Suite: III. Ballade
17. Joël Impérial & Gilbert Impérial – Lyrische Suite: IV. Epilog
Download:
https://subyshare.com/y4nnhrwuaq96/J0elImperialGilbertImperialRebayMusicf0rVi0laandGuitar202124441.rar.html