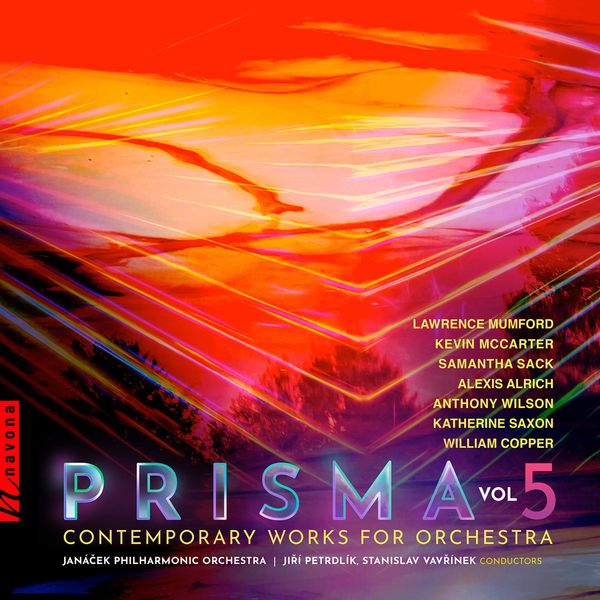 Janáček Philharmonic Orchestra, Jiří Petrdlík – Prisma, Vol. 5 (2021)
FLAC (tracks) 24 bit/96 kHz | Time – 59:35 minutes | 962 MB | Genre: Classical
Studio Masters, Official Digital Download | Front Cover | © Navona
Navona Records' acclaimed PRISMA series continues with a fifth installment, again showcasing the Janáček Philharmonic Orchestra's riveting take on contemporary composition. With a focus on innovation and imaginative performance, the orchestra brings a breath of fresh air to a repertoire that's all-too-often dominated by mainstream works.
United by their accessibility and creative vision, PRISMA VOL. 5's roster of composers—Alexis Alrich, William Copper, Kevin McCarter, Lawrence R. Mumford, Samantha Sack, Katherine Saxon, and Anthony Wilson—take advantage of the orchestra's ability to lend music an illustrative and narrative quality. Listeners travel through times and seasons, reconnect with the trust of intimacy, and explore natural wonders as the players weave an aural tapestry that's as complex as it is original.
Tracklist:
01. Janáček Philharmonic Orchestra, Jiří Petrdlík, Stanislav Vavřínek – Mumford: Symphony No. 4: I. Adagio "Of Times and Seasons"
02. Janáček Philharmonic Orchestra, Jiří Petrdlík, Stanislav Vavřínek – McCarter: All Along
03. Janáček Philharmonic Orchestra, Jiří Petrdlík, Stanislav Vavřínek – Sack: A Kiss in the Dark
04. Janáček Philharmonic Orchestra, Jiří Petrdlík, Stanislav Vavřínek – Alrich: Bell and Drum Tower
05. Janáček Philharmonic Orchestra, Jiří Petrdlík, Stanislav Vavřínek – Wilson: 3 Flights of the Condor
06. Janáček Philharmonic Orchestra, Jiří Petrdlík, Stanislav Vavřínek – Saxon: Nunatak
07. Janáček Philharmonic Orchestra, Jiří Petrdlík, Stanislav Vavřínek – Copper: This Full Bowl of Roses, Pt. 3
Download:
https://subyshare.com/9r3fvpsntyg8/JanacekPhilharm0nic0rchestraJiriPetrdlikStanislavVavrinekPrismaV0l.520212496.rar.html