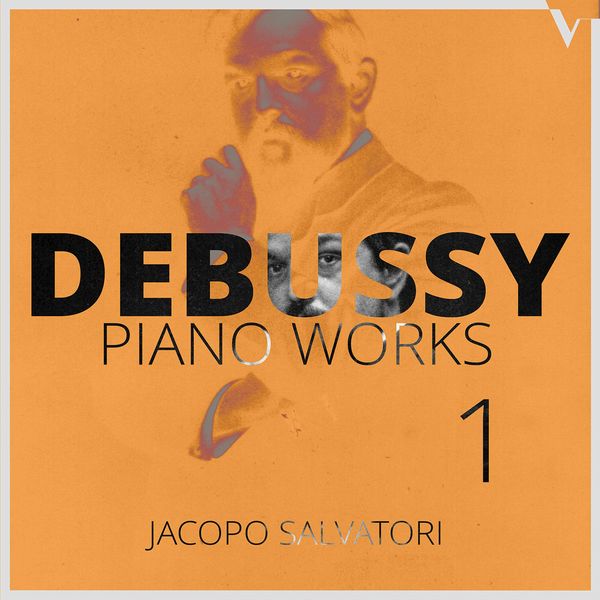 Jacopo Salvatori – Debussy: Piano Works, Vol. 1 (2019)
FLAC (tracks) 24 bit/88,2 kHz | Time – 01:00:57 minutes | 848 MB | Genre: Classical
Studio Masters, Official Digital Download | Front Cover | © OnClassical
Along with Maurice Ravel, Achille-Claude Debussy was one of the most prominent figures associated with Impressionist music, though he himself intensely disliked the term when applied to his compositions.
"Suite bergamasque" (1890) recalls rococo decorousness with a modern cynicism and puzzlement. This suite contains one of Debussy's most popular pieces, "Clair de Lune".
His first volume of "Images pour piano" (1904–1905) combines harmonic innovation with poetic suggestion: "Reflets dans l'eau" is a musical description of rippling water; "Hommage à Rameau", the second piece, is slow and yearningly nostalgic. It takes as its inspiration a melody from Jean-Philippe Rameau's "Castor et Pollux" (1737). The third piece is very fast and vibrating.
The album also contains the II set of Images as well as "L'isle joyeuse" a difficult, virtuoso piece. The Florentine pianist Jacopo Salvatori reveals a profound poetic sense and a proper timbre research. This album is recorded on a Fazioli grand piano.
The sound is veiled and highly dynamic ("Clair de Lune" is even DR 19!).
Tracklist:
1. Suite bergamasque, L. 75: I. Prelude (04:41)
2. Suite bergamasque, L. 75: II. Menuet (05:09)
3. Suite bergamasque, L. 75: III. Clair de lune (05:47)
4. Suite bergamasque, L. 75: IV. Passepied (04:36)
5. Images, L. 110, Set 1: No. 1, Reflets dans l'eau (05:58)
6. Images, L. 110, Set 1: No. 2, Hommage à Rameau (08:36)
7. Images, L. 110, Set 1: No. 3, Mouvement (03:45)
8. Images, L. 111, Set 2: No. 1, Cloches à travers les feuilles (04:59)
9. Images, L. 111, Set 2: No. 2, Et la lune descend sur le temple qui fut (06:04)
10. Images, L. 111, Set 2: No. 3, Poissons d'or (04:44)
11. L'Isle joyeuse, L. 106 (06:39)
Download:
https://subyshare.com/qn6fcgd4qof4/Jac0p0Salvat0riDebussyPian0W0rksV0l.120192488.2.rar.html