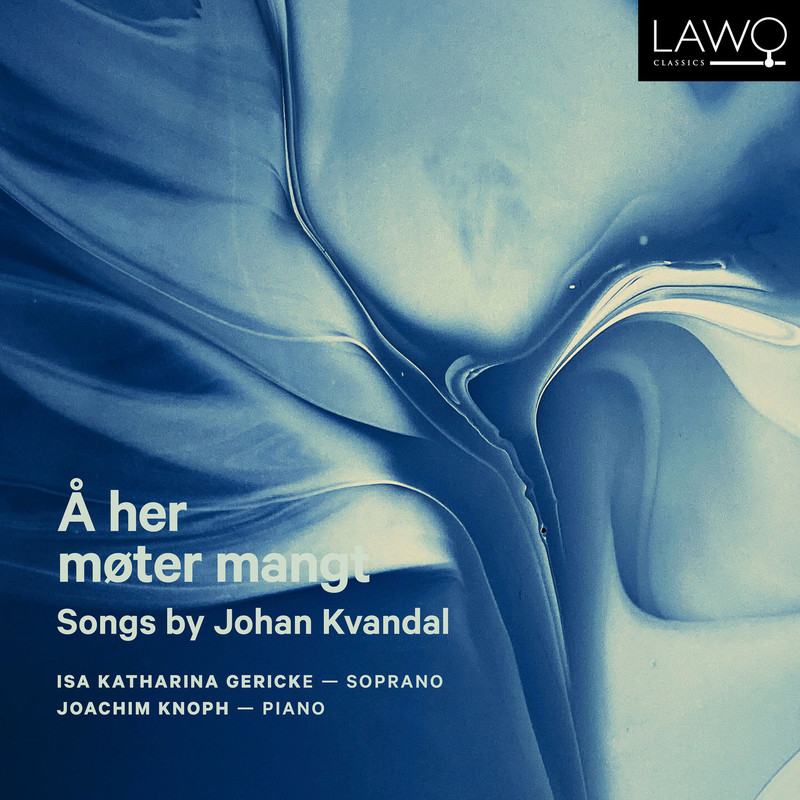 Isa Katharina Gericke & Joachim Knoph – Å her møter mangt – Songs by Johan Kvandal (2021)
FLAC (tracks) 24 bit/192 kHz | Time – 01:07:59 minutes | 2,25 GB | Genre: Classical
Studio Masters, Official Digital Download | Front Cover | © Lawo Classics
Johan Kvandal's tonal constancy was the bedrock for everything he wrote. Not even during the mid-1960s avant-gardism was he led off-track.It can therefore be said that there is a common thread in his vocal music, from the very first songs of 1939 up until the Knut Hamsun opera "Mysteries" in 1993, by which time his many years of experience in writing melodies for voice had reached its peak. His encounters with the Norwegian cultural heritage in his childhood and adolescence were quite literally the root notes of his entire song repertoire.
Tracklist:
01. Sanger, Op. 9: No. 9. Attersyn
02. To Garborg-sanger: Veslemøy ved rokken
03. To Garborg-sanger: Kvelding
04. Sanger, Op. 9: No. 1. Helsarmål
05. Sanger, Op. 9: No. 2. Hugen leikar
06. Sanger, Op. 9: No. 3. Mørk er min Sjæl
07. Sanger, Op. 9: No. 4. Til min Gyldenlak
08. Sanger, Op. 9: No. 5. Mot mørketid
09. Sanger, Op. 9: No. 6. Klage
10. To Fröding-sanger, Op. 9: Min stjärnas songer, No. 1
11. To Fröding-sanger, Op. 9: Min stjärnas songer No. 2
12. Norske stevtoner, Op. 40: I. Mine visur
13. Norske stevtoner, Op. 40: II. Då eg va liti
14. Norske stevtoner, Op. 40: III. Eg var meg ut på Gladheimsbergi
15. Norske stevtoner, Op. 40: IV. Hjuringvise og lokk
16. Norske stevtoner, Op. 40: V. Å hugen min
17. Norske stevtoner, Op. 40: VI. Å her møter mangt
18. Norske stevtoner, Op. 40: VII. Liti-mor
19. Norske stevtoner, Op. 40: VIII. Då eg va liti eg sprang utivi
20. Norske stevtoner, Op. 40: IX. Sjugurd og kjerringi
21. Norske stevtoner, Op. 40: X. Å med soli kan eg
22. Norske stevtoner, Op. 40: XI. Guten og jenta
23. Syv sanger, Op. 4: I. Hugleik
24. Syv sanger, Op. 4: II. Hadulaikar
25. Syv sanger, Op. 4: III. Stridsmannen og Dauden
26. Syv sanger, Op. 4: IV. Vårvon
27. Syv sanger, Op. 4: V. Or Skirnesmål
28. Syv sanger, Op. 4: VI. Or Helge Hundingsbane
29. Syv sanger, Op. 4: VII. Barnerim
30. 7 små barnesanger: I. Gråpus
31. 7 små barnesanger: II. Hosten
32. 7 små barnesanger: III. Naboens hund
33. 7 små barnesanger: IV. Gresshoppen
34. 7 små barnesanger: V. Fødselsdagsfest
35. 7 små barnesanger: VI. Vuggevise
36. 7 små barnesanger: VII. Tyven og gjessene
37. To kjærlighetssanger, Op. 58: No. 1. En rose
38. To kjærlighetssanger, Op. 58: No. 2. I berget
Download:
https://subyshare.com/fyu7l9dabhsu/IsaKatharinaGerickeJ0achimKn0phhermtermangtS0ngsbyJ0hanKvandal202124192.part1.rar.html
https://subyshare.com/1roeoivgvhy8/IsaKatharinaGerickeJ0achimKn0phhermtermangtS0ngsbyJ0hanKvandal202124192.part2.rar.html
https://subyshare.com/mfst6rkbe8nf/IsaKatharinaGerickeJ0achimKn0phhermtermangtS0ngsbyJ0hanKvandal202124192.part3.rar.html