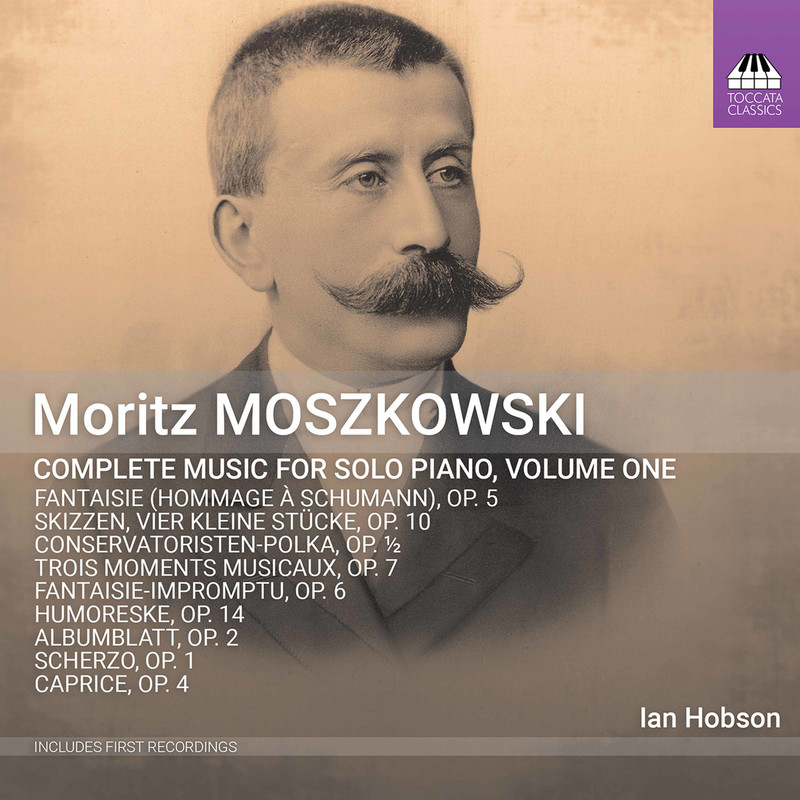 Ian Hobson – Moszkowski Complete Music for Solo Piano, Vol. 1 (2021)
FLAC (tracks) 24 bit/96 kHz | Time – 01:16:57 minutes | 1,15 GB | Genre: Classical
Studio Masters, Official Digital Download | Digital Booklet, Front Cover | © Toccata Classics
Moritz Moszkowski (1854-1925) wrote a considerable quantity of piano music, but it is generally remembered today only for a single piece, Étincelles, which Horowitz enjoyed playing. The early works on this first instalment in Ian Hobson's survey of Moszkowski's complete music for solo piano reveal a debt to Mendelssohn and Schumann, but the craftsmanship already justifies a later remark of Paderewski's: "After Chopin, Moszkowski best understands how to write for the piano, and his writing embraces the whole gamut of piano technique".
Tracklist:
01-Conservatoristen-Polka, WV 64
02-Scherzo in B-Flat Major, Op. 1
03-Albumblatt, Op. 2
04-Caprice in A Minor, Op. 4
05-Hommage à Schumann, Op. 5
06-Fantaisie-Impromptu in F Major, Op. 6
07-No. 1, Allegramente
08-No. 2, Con moto
09-No. 3, Tranquillo e semplice
10-No. 1, Melodie
11-No. 2, Thema
12-No. 3, Mazurka
13-No. 4, Impromptu über Sachs
14-Humoreske in D Major, Op. 14
Download:
https://subyshare.com/f39bfhllomey/IanH0bs0nM0szk0wskiC0mpleteMusicf0rS0l0Pian0V0l.120212496.part1.rar.html
https://subyshare.com/98xpy39m1p20/IanH0bs0nM0szk0wskiC0mpleteMusicf0rS0l0Pian0V0l.120212496.part2.rar.html