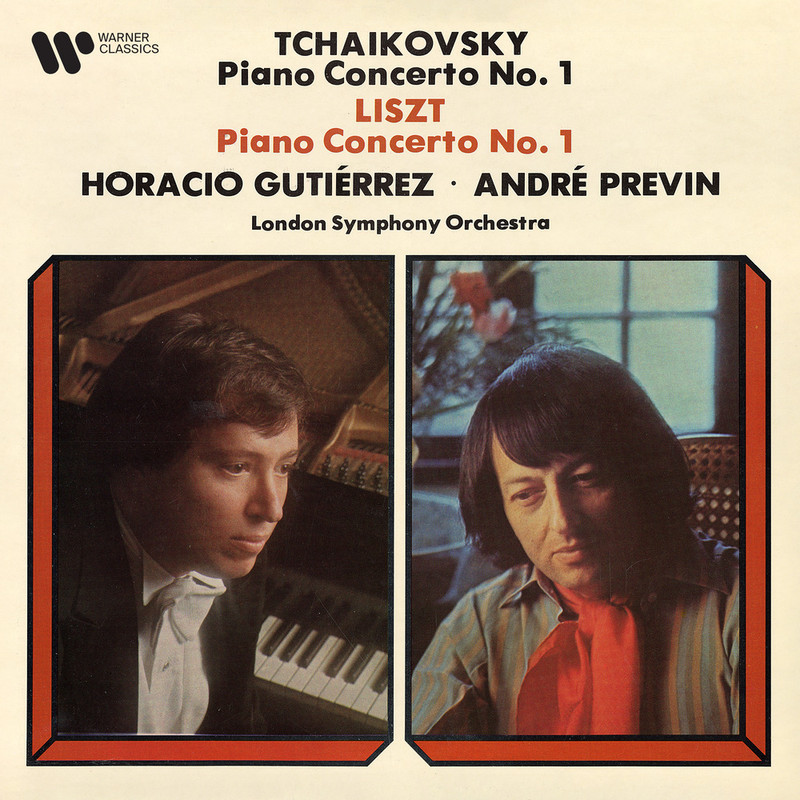 Horacio Gutiérrez – Tchaikovsky – Piano Concerto No. 1, Op. 23 – Liszt – Piano Concerto No. 1 (1976/2021)
FLAC (tracks) 24 bit/192 kHz | Time – 52:51 minutes | 1,62 GB | Genre: Classical
Studio Masters, Official Digital Download | Front Cover | © Parlophone Records
Cuban-American pianist Horacio Gutiérrez appears as soloist, supported by the London Symphony Orchestra under the direction of André Previn, in this rendition of Tchaikovsky's Piano Concerto No. 1, Op. 23 and Liszt's Piano Concerto No. 1.
The Piano Concerto No. 1 in B♭ minor, Op. 23, was composed by Pyotr Ilyich Tchaikovsky between November 1874 and February 1875. It was revised in the summer of 1879 and again in December 1888. The first version received heavy criticism from Nikolai Rubinstein, Tchaikovsky's desired pianist. Rubinstein later repudiated his previous accusations and became a fervent champion of the work. It is one of the most popular of Tchaikovsky's compositions and among the best known of all piano concertos.
Franz Liszt composed his Piano Concerto No. 1 in E♭ major, S.124 over a 26-year period; the main themes date from 1830, while the final version is dated 1849. The concerto consists of four movements and lasts approximately 20 minutes. It premiered in Weimar on February 17, 1855, with Liszt at the piano and Hector Berlioz conducting.
Tracklist:
1. Horacio Gutiérrez – Piano Concerto No. 1 in B-Flat Minor, Op. 23: I. Allegro non troppo e molto maestoso – Allegro con spirito
2. Horacio Gutiérrez – Piano Concerto No. 1 in B-Flat Minor, Op. 23: II. Andantino semplice – Prestissimo – Tempo I
3. Horacio Gutiérrez – Piano Concerto No. 1 in B-Flat Minor, Op. 23: III. Allegro con fuoco
4. Horacio Gutiérrez – Piano Concerto No. 1 in E-Flat Major, S. 124: I. Allegro maestoso
5. Horacio Gutiérrez – Piano Concerto No. 1 in E-Flat Major, S. 124: II. Quasi adagio
6. Horacio Gutiérrez – Piano Concerto No. 1 in E-Flat Major, S. 124: III. Allegretto vivace – Allegro animato
7. Horacio Gutiérrez – Piano Concerto No. 1 in E-Flat Major, S. 124: IV. Allegro marziale animato
Download:
https://subyshare.com/hv62yk42vd1j/H0raci0GutirrezTchaik0vskyPian0C0ncert0N0.10p.23LisztPian0C0ncert0N0.11976202124192.part1.rar.html
https://subyshare.com/wkqqi41f9byw/H0raci0GutirrezTchaik0vskyPian0C0ncert0N0.10p.23LisztPian0C0ncert0N0.11976202124192.part2.rar.html