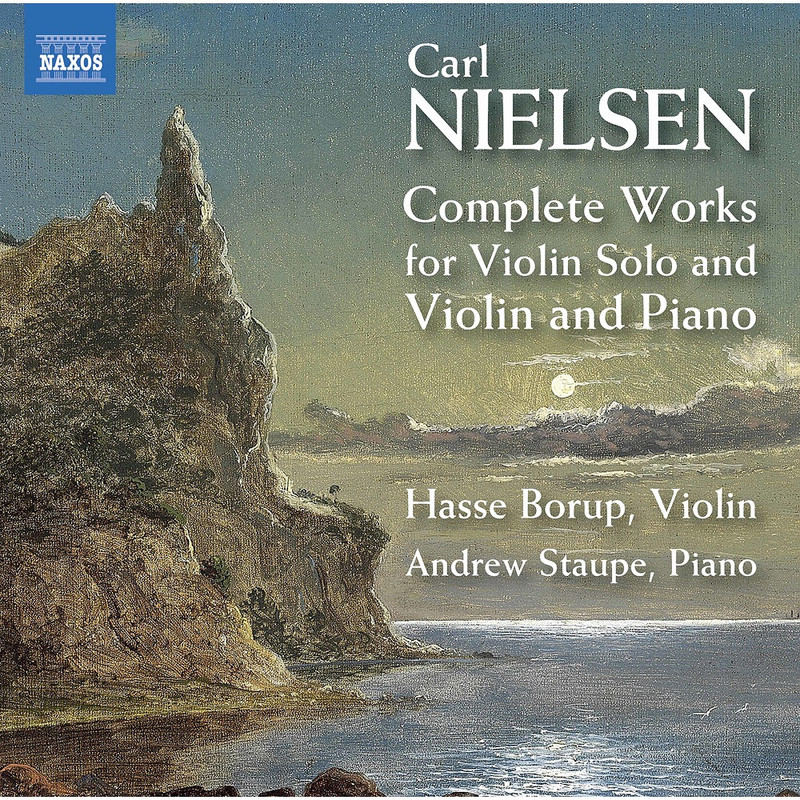 Hasse Borup & Andrew Staupe – Nielsen: Complete Works for Violin Solo & Violin and Piano (2020)
FLAC (tracks) 24 bit/96 kHz | Time – 01:26:48 minutes | 1,68 GB | Genre: Classical
Studio Masters, Official Digital Download | Digital Booklet, Front Cover | © Naxos
The music of Carl Nielsen holds a very special place for Danes, defining the nation's musical voice for over a century and reflecting the soul of Denmark. Nielsen was a violinist from childhood, his early Sonata in G major having 'a scent of Mozartian youth', while the newly published Romance in G major was dedicated to his first teacher. Mature works include the Second Violin Sonata, 'a work unparalleled in the sonata literature', and the Prelude, Theme and Variations inspired by Bach's Chaconne for solo violin. This collection represents the first ever recording of Nielsen's complete music for violin solo or with piano.
"Andrew Staupe is a superb pianist who really digs into this music and presents it in its best light." (Lynn René Bayley, The Art Music Lounge)
"…Borup's tone sounds considerably better in the previously unrecorded pieces, particularly in the Romance in G where he is quite acceptable indeed. This is a very fine piece, one that clearly belongs in the Nielsen canon. The a cappella polka is a cute piece which can always be played as an encore, Grüss is a more lyrical piece which sounds as if it is based somewhat on Danish folk music." (The Art Music Lounge)
Tracklist:
1. Hasse Borup & Andrew Staupe – Violin Sonata No. 1 in A Major, Op. 9, FS 20: I. Allegro glorioso (08:42)
2. Hasse Borup & Andrew Staupe – Violin Sonata No. 1 in A Major, Op. 9, FS 20: II. Andante (06:26)
3. Hasse Borup & Andrew Staupe – Violin Sonata No. 1 in A Major, Op. 9, FS 20: III. Allegro piacevole é giovanile (05:15)
4. Hasse Borup & Andrew Staupe – Violin Sonata No. 2, Op. 35, FS 64: I. Allegro con tiepidézza (07:51)
5. Hasse Borup & Andrew Staupe – Violin Sonata No. 2, Op. 35, FS 64: II. Molto adagio (07:07)
6. Hasse Borup & Andrew Staupe – Violin Sonata No. 2, Op. 35, FS 64: III. Allegro piacévole (04:17)
7. Hasse Borup – Prelude, Theme & Variations, Op. 48, FS 104: Præludium (04:30)
8. Hasse Borup – Prelude, Theme & Variations, Op. 48, FS 104: Tema. Andante (01:05)
9. Hasse Borup – Prelude, Theme & Variations, Op. 48, FS 104: Var. 1, Più mosso (00:54)
10. Hasse Borup – Prelude, Theme & Variations, Op. 48, FS 104: Var. 2, Andantino quasi allegretto (01:39)
11. Hasse Borup – Prelude, Theme & Variations, Op. 48, FS 104: Var. 3, Andante espressivo (01:51)
12. Hasse Borup – Prelude, Theme & Variations, Op. 48, FS 104: Var. 4, Poco allegro, molto ritmico (00:52)
13. Hasse Borup – Prelude, Theme & Variations, Op. 48, FS 104: Var. 5, Più mosso (00:58)
14. Hasse Borup – Prelude, Theme & Variations, Op. 48, FS 104: Var. 6, Tempo giusto (01:21)
15. Hasse Borup – Prelude, Theme & Variations, Op. 48, FS 104: Var. 7, Presto (02:45)
16. Hasse Borup – Prelude, Theme & Variations, Op. 48, FS 104: Var. 8, Poco adagio (01:17)
17. Hasse Borup – Prelude, Theme & Variations, Op. 48, FS 104: Tempo di tema (01:27)
18. Hasse Borup – Preludio e presto, Op. 52, FS 128: I. Preludio. Con fantasia (07:53)
19. Hasse Borup – Preludio e presto, Op. 52, FS 128: II. Presto (03:47)
20. Hasse Borup & Andrew Staupe – Violin Sonata in G Major, FS 3b: I. Allegro (04:28)
21. Hasse Borup & Andrew Staupe – Violin Sonata in G Major, FS 3b: II. Andante grazioso (01:50)
22. Hasse Borup & Andrew Staupe – Violin Sonata in G Major, FS 3b: III. Scherzo (02:29)
23. Hasse Borup & Andrew Staupe – Romance in D Major (03:02)
24. Hasse Borup & Andrew Staupe – Romance in G Major, FS 304 (03:58)
25. Hasse Borup – Polka in A Major, FS 1 (00:41)
26. Hasse Borup – Grüss in G Major (Fragment) (00:23)
Download:
https://subyshare.com/r7affk3sei12/HasseB0rupAndrewStaupeNielsenC0mpleteW0rksf0rVi0linS0l0Vi0linandPian020202496.part1.rar.html
https://subyshare.com/3yq4equ30xm1/HasseB0rupAndrewStaupeNielsenC0mpleteW0rksf0rVi0linS0l0Vi0linandPian020202496.part2.rar.html