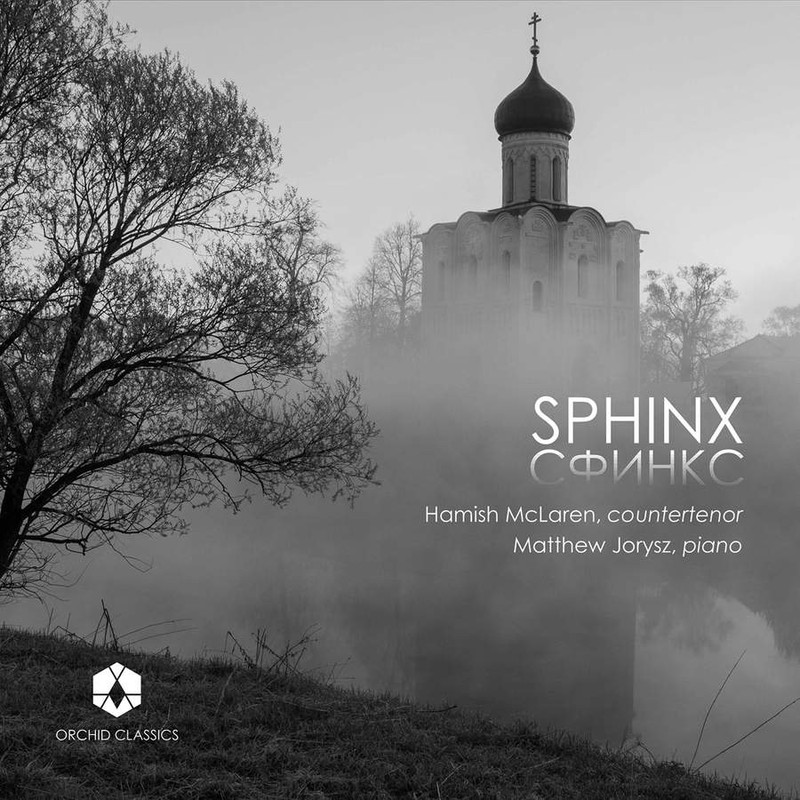 Hamish McLaren & Matthew Jorysz – Sphinx (2021)
FLAC (tracks) 24 bit/96 kHz | Time – 01:16:16 minutes | 1,25 GB | Genre: Classical
Studio Masters, Official Digital Download | Digital Booklet, Front Cover | © Orchid Classics
Russia's rich tradition of art song began with early 19th-century salon pieces: lyrical "romances" that evolved to embrace grander themes yet never lost their intimacy. This selection explores some fascinating but less-trodden paths through this repertoire, inspired by the theme of distant lands and encompassing the enduring themes of travel, romantic landscapes, love and loss, life and death. In this recital, Borodin meets Taneyev, a Moscow composition professor from the next generation; Shostakovich stands alongside another major symphonist, his Moscow colleague Myaskovsky, and Shostakovich's student Boris Tchaikovsky, a prodigy widely known for his film music, passes the baton to Elena Firsova, a post-Soviet émigré to England and a distinctive lyrical voice of today.
Inspired by the songs of Taneyev, Myaskovksy and Firsova, countertenor Hamish McLaren embarked on distant travels of his own, journeying to Russia where he found two previously unreleased film songs by Shostakovich, heard here in their world-premiere recordings.
Tracklist:
01. Tchaikovsky: From Kipling: No. 1, The Distant Amazon
02. Tchaikovsky: From Kipling: No. 2, Homer
03. Shostakovich: 2 Romances on Verses by Lermontov, Op. 84: No. 1, Morning in the Caucasus
04. Shostakovich: 2 Romances on Verses by Lermontov, Op. 84: No. 2, Ballad
05. Borodin: My Songs Are Full of Poison
06. Borodin: Songs & Romances: No. 13, For the Distant Shores of Your Native Country
07. Taneyev: 5 Poems, Op. 33: No. 1, Night in the Mountains of Scotland
08. Taneyev: 10 Poems, Op. 26: No. 6, Stalactites
09. Tchaikovsky: 2 Poems by Lermontov: No. 1, Autumn
10. Tchaikovsky: 2 Poems by Lermontov: No. 2, The Pine
11. Myaskovsky: The Days of Youth, Op. 2 (Excerpts): No. 8, The Albatross
12. Shostakovich: Spanish Songs, Op. 100: No. 1, Farewell, Granada!
13. Shostakovich: Spanish Songs, Op. 100: No. 2, The Little Stars
14. Shostakovich: Spanish Songs, Op. 100: No. 3, The First Meeting
15. Shostakovich: Spanish Songs, Op. 100: No. 4, Ronda
16. Shostakovich: Spanish Songs, Op. 100: No. 5, The Dark-Eyed Girl
17. Shostakovich: Spanish Songs, Op. 100: No. 6, Dream
18. Shostakovich: Desdemona's Romance
19. Shostakovich: A Pointless Gift, a Chance Gift
20. Firsova: 2 Songs to Poems by Boris Pasternak: No. 1, The Wind
21. Firsova: 2 Songs to Poems by Boris Pasternak: No. 2, Twilight
22. Myaskovsky: The Days of Youth, Op. 2 (Excerpts): No. 11, The Sphinx
23. Firsova: Winter Elegy, Op. 91
Download:
https://subyshare.com/x5msnm8nd42a/HamishMcLarenMatthewJ0ryszSphinx20212496.part1.rar.html
https://subyshare.com/92ge4bw094yh/HamishMcLarenMatthewJ0ryszSphinx20212496.part2.rar.html