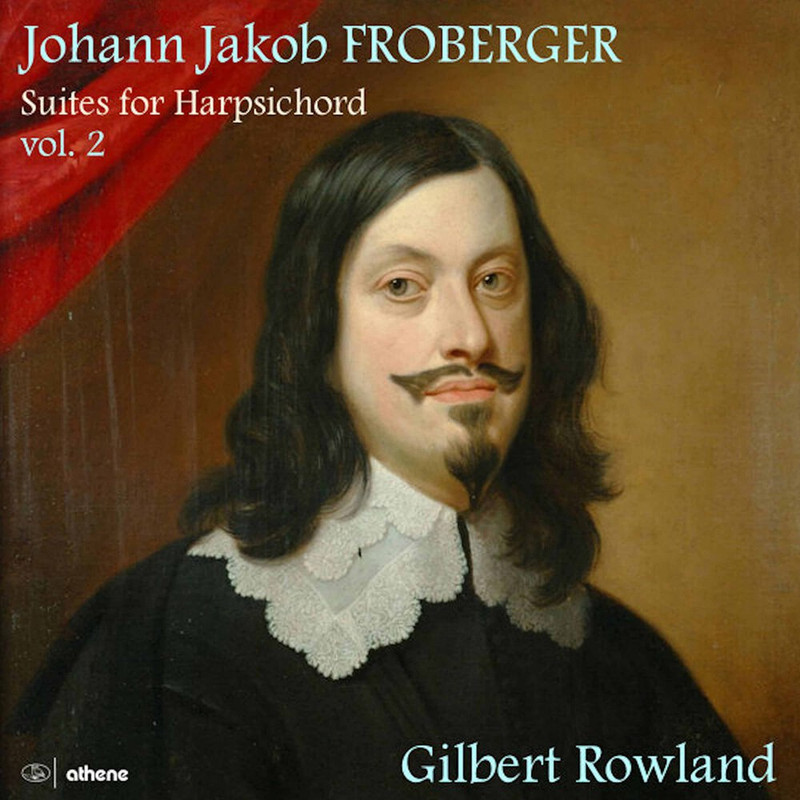 Gilbert Rowland – Froberger – Suites for Harpsichord, Vol. 2 (2021)
FLAC (tracks) 24 bit/96 kHz | Time – 01:56:36 minutes | 2,46 GB | Genre: Classical
Studio Masters, Official Digital Download | Digital Booklet, Front Cover | © Athene
Gilbert Rowland is one of Europe's most senior and accomplished exponents of the harpsichord. Following his critically acclaimed 6-album series of the Harpsichord Suites of Haendel for Divine Art, he moved to the Athene imprint which now specializes in baroque music and "period" instruments for his well-received album of Suites by Johann Mattheson and his first volume of Froberger's Suites.
This album is the second volume in a projected complete survey of the Harpsichord Suites by Johann Jakob Froberger, whose organ and harpsichord music is individual in nature and ground breaking – he was one of the first composers to settle the "dance-movement" style of "Suite" taken up by Couperin, Bach, and Haendel among many others. There are twelve Suites in this collection. Gilbert Rowland plays a 2-manual French style harpsichord made by Andrew Wooderson after an instrument by Goemans (Paris, 1750).
Tracklist:
Suite in D Major, FbWV 620
1. Gilbert Rowland – I. Méditation sur ma mort future
2. Gilbert Rowland – II. Gigue
3. Gilbert Rowland – III. Courante
4. Gilbert Rowland – IV. Sarabande
Suite in A Minor, FbWV 610
5. Gilbert Rowland – I. Allemande
6. Gilbert Rowland – II. Gigue
7. Gilbert Rowland – III. Courante
8. Gilbert Rowland – IV. Sarabande
Suite in F Minor, FbWV 653 "Die Hochstädter Leuchte"
9. Gilbert Rowland – I. Allemande
10. Gilbert Rowland – II. Courante
11. Gilbert Rowland – III. Sarabande & Double
12. Gilbert Rowland – IV. Gigue
Suite in E Minor, FbWV 605
13. Gilbert Rowland – I. Allemande
14. Gilbert Rowland – II. Courante
15. Gilbert Rowland – III. Sarabande & Double
Suite in C Major, FbWV 605
16. Gilbert Rowland – I. Allemande
17. Gilbert Rowland – II. Courante
18. Gilbert Rowland – III. Aria
19. Gilbert Rowland – IV. Sarabande
20. Gilbert Rowland – V. Gigue
Suite in D Minor, FbWV 626
21. Gilbert Rowland – I. Allemande
22. Gilbert Rowland – II. Courante
23. Gilbert Rowland – III. Sarabande
24. Gilbert Rowland – IV. Gigue
Suite in G Major, FbWV 616
25. Gilbert Rowland – I. Allemande
26. Gilbert Rowland – II. Gigue
27. Gilbert Rowland – III. Courante
28. Gilbert Rowland – IV. Sarabande
Suite in E Minor, FbWV 607
29. Gilbert Rowland – I. Allemande
30. Gilbert Rowland – II. Gigue
31. Gilbert Rowland – III. Courante
32. Gilbert Rowland – IV. Sarabande
Suite in E Minor, FbWV 641
33. Gilbert Rowland – I. Allemande
34. Gilbert Rowland – II. Courante
35. Gilbert Rowland – III. Sarabande
36. Gilbert Rowland – IV. Gigue
Suite in B Major, FbWV 655 "Der naseweise Orgelprobierer"
37. Gilbert Rowland – I. Allemande
38. Gilbert Rowland – II. Courante
39. Gilbert Rowland – III. Sarabande & Double
40. Gilbert Rowland – IV. Gigue
Suite in D Minor, FbWV 625
41. Gilbert Rowland – I. Allemande
42. Gilbert Rowland – II. Courante I
43. Gilbert Rowland – III. Courante II
44. Gilbert Rowland – IV. Sarabande & Double
Suite in D Minor, FbWV 603
45. Gilbert Rowland – I. Allemande
46. Gilbert Rowland – II. Courante
47. Gilbert Rowland – III. Sarabande
48. Gilbert Rowland – IV. Gigue
Download:
https://subyshare.com/lwvpbiy9zf6q/GilbertR0wlandFr0bergerSuitesf0rHarpsich0rdV0l.220212496.part1.rar.html
https://subyshare.com/2vdd41mu6tod/GilbertR0wlandFr0bergerSuitesf0rHarpsich0rdV0l.220212496.part2.rar.html
https://subyshare.com/6g7geh88p2vh/GilbertR0wlandFr0bergerSuitesf0rHarpsich0rdV0l.220212496.part3.rar.html