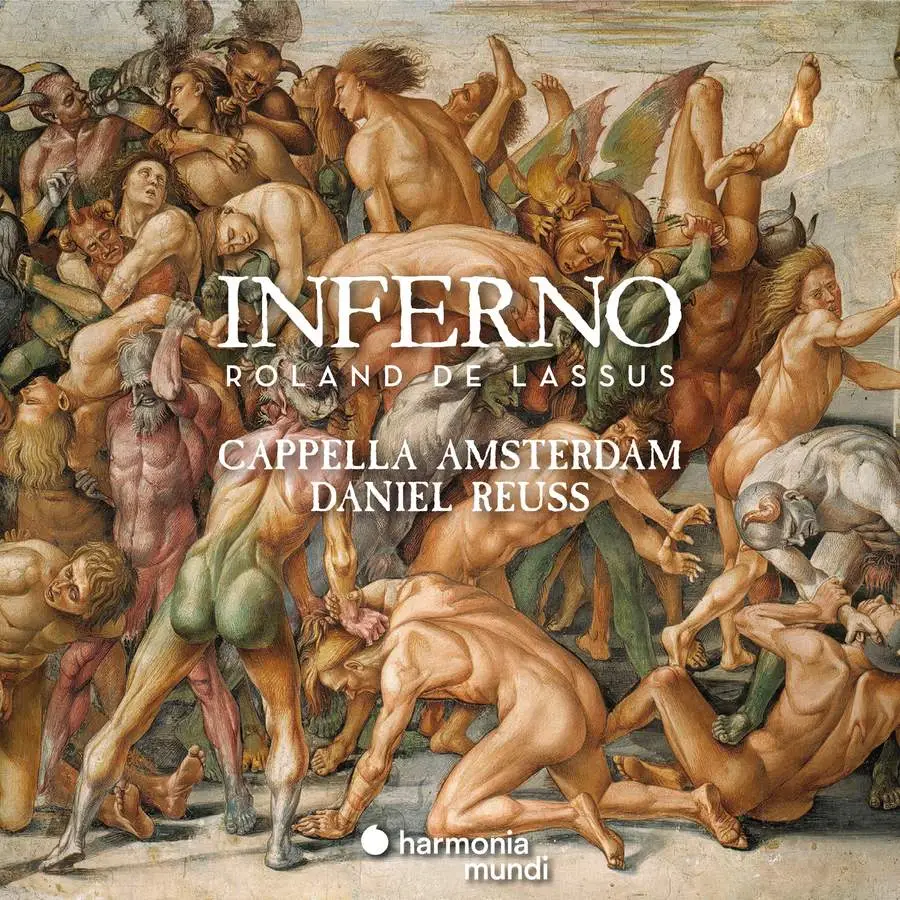 Daniel Reuss & Cappella Amsterdam – Lassus: Inferno (2020)
FLAC (tracks) 24 bit/96 kHz | Time – 49:07 minutes | 850 MB | Genre: Classical
Studio Masters, Official Digital Download | Digital Booklet, Front Cover | © harmonia mundi
Cappella Amsterdam does not just sing music that charms and captivates, but does this at the highest possible level. For its performances, the choir has received many prizes and a stream of positive reviews. Cappella Amsterdam offers the classical choir repertoire in all its glory and dedicates itself, every single year, to bring to you the most beautiful and important choral pieces, both old and new. Daniel Reuss is the artistic director of Cappella Amsterdam. Under his guidance the choir has professionalised and risen to international fame.
Though Orlande de Lassus displays overflowing vitality in his secular music, matters are quite different in his sacred music: the twelve motets assembled on this album (most of them composed in the last years of his life) bespeak a profound melancholy and show not only his ability to make use of a wide range of stylistic devices, but also great subtlety in the art of rhetoric. An expressive palette handled in masterly fashion by Daniel Reuss at the head of Cappella Amsterdam!
Tracklist
1. Daniel Reuss & Cappella Amsterdam – Cantica sacra sex et octo vocibus: Omnia tempus habent
2. Daniel Reuss & Cappella Amsterdam – Sacræ cantiones, liber quartus: Audi tellus
3. Daniel Reuss & Cappella Amsterdam – Cantiones sacræ sex vocum: Ad Dominum cum tribularer
4. Daniel Reuss & Cappella Amsterdam – Media vita in morte sumus (Gregorian Antiphon)
5. Daniel Reuss & Cappella Amsterdam – Patrocinium musices, prima pars: Media vita in morte sumus
6. Daniel Reuss & Cappella Amsterdam – Cantiones sacræ sex vocibus compositæ: Circumdederunt me dolores mortis
7. Daniel Reuss & Cappella Amsterdam – Selectissimæ cantiones: Libera me Domine
8. Daniel Reuss & Cappella Amsterdam – Cantiones sacræ sex vocum: Recordare Jesu pie
9. Daniel Reuss & Cappella Amsterdam – Cantiones sacræ sex vocum: Deficiat in dolore vita mea
10. Daniel Reuss & Cappella Amsterdam – Cantiones sacræ sex vocum: Vidi calumnias
11. Daniel Reuss & Cappella Amsterdam – Primus Liber concentuum sacrorum: O mors quam amara
12. Daniel Reuss & Cappella Amsterdam – Mottetta sex vocum: Cum essem parvulus
13. Daniel Reuss & Cappella Amsterdam – Lagrime di S. Pietro: Vide homo
Download:
https://subyshare.com/utcbfcm2xtn5/DaniLpezQuartetElQueFanLesC0sesQuanN0LesMires2020FLAC2444.1.rar.html